Royal Wedding Princess Showdown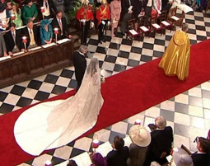 There are very few real-life princes and princesses in the world, and today an enraptured world watched a fairy tale come to life as Prince William, His Royal Highness the Duke of Cambridge, married his sweetheart Kate Middleton, now Her Royal Highness the Duchess of Cambridge, in a ceremony at Westminster Abbey in London.
The ceremony was appropriately royal, taking place in one of the world's most beautifully lavish Gothic churches with 2,000 high-profile guests and 2 billion world viewers. The bells rang, the choir sung, and the couple departed the church in a horse-drawn carriage for a royal processional through the streets of London on the way to Buckingham Palace, parading before the throng of citizens straining for a glimpse of the beloved royal couple.
In the spirit of the royal wedding, The Washington Post hosted a Princess Bracket this week for readers to vote on their favorite fictional princesses, with only one of the sixteen royals crowned the winner at the end of the elimination showdown. Nine of the sixteen competitors are the Disney princesses Sleeping Beauty, Snow White, Cinderella, Ariel, Jasmine, Belle, Rapunzel, Mulan, and Tiana, who faced down against Leia from the Star Wars series, Buttercup from The Princess Bride, Fiona from Shrek, She-Ra from Princess of Power, Mia Thermopolis from The Princess Diaries, Xena from Xena, Warrior Princess, and Princess Ann from Roman Holiday.
Belle is the only Disney princess to have survived to the final round and she is up against Leia, Buttercup, and Princess Ann. So far the votes are narrowly in Belle's favor over runner-up Buttercup, but can the animated bookworm defeat her live-action competitors?
Princess Bracket (hosted by The Washington Post)

Leia vs. Sleeping Beauty
Leia vs. Cinderella
Leia vs. Buttercup
Belle vs. Buttercup
Snow White vs. Cinderella
Buttercup vs. Fiona
Buttercup vs. Ariel
She-Ra vs. Ariel
Jasmine vs. Belle
Belle vs. Mulan
Belle vs. Princess Ann
Rapunzel vs. Mulan
Mia Thermopolis vs. Xena
Mia Thermopolis vs. Princess Ann
Princess Ann vs. Tiana
AND THE WINNER IS…
BUTTERCUP

Sadly, a Disney princess did not prevail in the end, and Buttercup was crowned favorite fictional princess, edging out Belle in the final round. As you wish.