Ariel's Undersea Adventure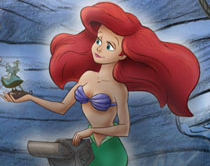 On June 3rd, 2011, more than 20 years after The Little Mermaid splashed into theaters, Disney's California Adventures theme park will finally launch an attraction starring everyone's favorite mermaid, Ariel.
Ariel's Undersea Adventure is a five-and-a-half minute ride-through attraction that takes guest on a journey through scenes from the beloved movie, with a soundtrack that includes some of the film's most popular songs – "Part of Your World," "Under the Sea," "Kiss the Girl," and "Poor Unfortunate Souls."
Disney Fans Insider recently published an article with fascinating behind-the-scenes details about the new attraction. The article highlights the technical advances in digital 3D design programs that allowed the Disney Imagineers to fully realize the 183 characters featured in the ride, from animating Ariel's hair and designing "skin suits" to creating the sea witch Ursula, one of the most advanced Audio-Animatronic figures ever built.
The highly anticipated attraction is located in California Adventure's Paradise Pier in an elegant Victorian Exposition-style building near the similarly-themed Jumpin' Jellyfish launching pads, King Triton's Carousel, and Ariel's Grotto restaurant. A similar ride called Under the Sea: Journey of the Little Mermaid will be opening in Disney World's Magic Kingdom as part of the 2012-2013 Fantasyland expansion.
In 2006, a video mock-up of the ride was included as a bonus feature on the Special Edition DVD of The Little Mermaid, which can be viewed below.
In the video below, the attraction's Show Producer, Lisa Girolami, goes behind the scenes, showing off concept art and artists at work as the ride is conceived and built.
Disney Imagineers show off the Ursula audio-animatronic, a massive 7.5 feet tall and 12 feet wide figure, the largest and most advanced character featured in the attraction.
For more behind-the-scenes videos of Ariel's Undersea Adventure and other park attractions, visit the Disney Parks Youtube channel.