Disney Cruise Line: New Itineraries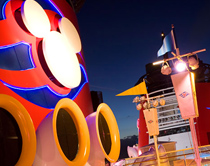 I am currently in the process of planning my first-year anniversary cruise with my husband, so I know first-hand how difficult it can be to figure out all of the details: which cruise line, which itinerary, what to do at the ports of call, etc., even though cruises are often stereotyped as easy/stress-free vacations. Fortunately, there are hundreds of websites dedicated to helping vacationers plan their cruises, and one of the most comprehensive is Cruisecritic.com, a one-stop destination for cruise deals, reviews, message boards, image galleries, and more.
In April of this year, Disney announced new itineraries for its Disney Magic and Disney Wonder cruise ships which have new 2012 itineraries sailing out of New York, Galveston, and Seattle. Disney Magic and Disney Wonder are getting new ports of embarkation to make way for Disney's brand new ships debuting in 2011 and 2012: Disney Dream and Disney Fantasy.
When asked to share what they love about Disney Cruise Line, Cruise Critic members had a lot to say:

Kids Clubs are AMAZING. The attention to detail in these clubs is awe inspiring. I can't see how a kid could ever get bored. My daughter is obsessed and talks about the tween club Edge all of the time.
What I like is how the staff welcomes you aboard their ships, by announcing each family as they enter. I also like that they don't have casinos.
The whole family atmosphere. There is a magic on the ship … the same kind of magic you feel when you visit Walt Disney World. It is hard to put into words. It is just all of the details that Disney seems to think of that makes everything so special.
I had not once felt nickel-and-dimed as some people claim to feel on some other lines. The only thing we paid extra for were pictures, drinks (alcoholic), and tips.
Soda is free. There is a great beverage station where you can get soda, ice tea, milk, coffee, Twinings hot tea, etc.
I love the piped-in Disney tunes around the ship. I love the elegant yet subtle whimsy in the ship's design and decor. I love that the entertainment is top-notch and family-friendly.
We loved the music. It was even piped into the laundry room so I could hum along with the theme from Up while ironing our dress clothes! And the music changed depending on where you were on the ship, with upbeat Top 40 playing on the main pool deck and adult contemporary playing at the adult pool.
High quality and good quantity of entertainment events. Lots of movies in your cabin and in a big screen theater (with stadium seating even!) all for no extra cost.
We loved the artwork, even those which were not interactive. There is an amazing amount of thoughtful detail, such as the hallway between Animator's Palate and Royal Palace having line drawings of Disney princesses to transition between the two spaces.
Rotating between multiple, smaller dining rooms and being assured of getting fixed time dining (no pagers or making reservations for dinner each night). Generally good lunch and brunch options in the dining rooms on sea days.
I love the fact that the Characters are out in force, in multiple times and places. They also come out all together the last night of the cruise for autographs pictures, etc. (I know they do that on the longer cruises). The wait times are shorter than the parks, and as an added benefit, they are in air conditioned locations for the most part.
Castaway Cay, the private island, is great. Even food there is included, and the Flying Dutchman is there! What a beauty.
There was a request for me to post more about the new 2012 Disney Cruise Line itineraries, namely the scheduled times for visiting ports of call, and this information is included below. The ports of call and aboard/onshore times are subject to change at DCL's discretion. As an NYCer, I'm especially excited about the itineraries that leave out of my favorite port of embarkation: home sweet home!
2012 Itinerary for a Disney Cruise to the Bahamas from New York
Aboard the Disney Magic (From $1240 – BOOK NOW!)

Eight-Night Bahamas
(May-August)

Ashore

Onboard

New York, New York

–

4:00pm

At Sea

–

–

At Sea

–

–

Nassau, Bahamas

9:30 a.m.

6:00 p.m.

Castaway Cay, Bahamas

8:15 p.m.

4:30 p.m.

Port Canaveral, Florida

6:15 a.m.

11:30 p.m.

At Sea

–

–

At Sea

–

–

New York, New York

8:30 a.m.

–
2012 Itinerary for a Disney Cruise to Canada from New York
Aboard the Disney Magic (From $715 – BOOK NOW!)

Five-Night Canada
(June-September)

Itinerary A

Itinerary B

Ashore

Onboard

Ashore

Onboard

New York

–

4:00 p.m.

–

4:00 p.m.

At Sea

–

–

–

–

Halifax, Nova Scotia

8:30 a.m.

4:30 p.m.

8:30 a.m.

4:30 p.m.

St. John, New Brunswick

9:30 a.m.

4:30 p.m.

10:15 a.m.

4:30 p.m.

At Sea

–

–

–

–

New York

8:30 a.m.

–

8:30 a.m.

–
2012 Itinerary for a Disney Cruise to the Western Caribbean from Galveston
Aboard the Disney Magic (From $840 – BOOK NOW!)

Seven-Night Western Caribbean
(September-December)

Ashore

Onboard

Galveston, Texas

–

4:00 p.m.

At Sea

–

–

At Sea

–

–

Grand Cayman, Cayman Islands

7:30 a.m.

4:00 p.m.

Costa Maya, Mexico

12:45 p.m.

5:30 p.m.

Cozumel, Mexico

7:15 a.m.

3:45 p.m.

At Sea

–

–

Galveston, Texas

8:30 a.m.

–
For more help planning your next Disney Cruise, visit Disney Cruise Line's official website!