International Flower and Garden Festival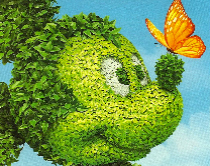 For two months from March to May, the Epcot theme park at the Disney World Resort was in full bloom during the 18th annual Epcot International Flower and Garden Festival. This year's festival, hosted by HGTV, celebrated spring with more than 100 topiaries, including 75 Disney character topiaries arranged throughout the park.
2011's brand-new topiaries: Toy Story 3, Winnie the Pooh, Cars 2, and Rapunzel's Tower, joined perennial favorites Beauty and the Beast, Snow White and the Seven Dwarfs, Peter Pan, Lady and the Tramp, and Aladdin. The fairies of Pixie Hollow appeared live and in topiary form in the Pixie Hollow Fairy Garden to promote Tinker Bell and the Pixie Hollow Games, coming this Fall on the Disney Channel. The festival also featured the brand-new Bambi's Butterfly House with Bambi character topiaries and hundreds of native butterflies to celebrate the release of the Diamond Edition of Bambi on Blu-ray and DVD.
Throughout the festival, HGTV featured a celebrity lineup of star designers (Genevieve Gorder, Lisa LaPorta, Kim Myles, Brian Patrick Flynn, Taniya Nayak, Ahmed Hassan, Patti Moreno, Michele Beschen, John Gidding, Frank Fontana, and Vern Yip) who appeared to give park guests valuable tips on a range of topics including "Mobile Gardens," "Secrets to Bringing Indoor Style Outside" and "Gardening with Kids." The Flower Power Concert Series celebrated the music of the 1960s and 1970s with a different featured performer every week, including Jose Feliciano, Chubby Checker & The Wildcats, Melissa Manchester, Marilyn McCoo & Billy Davis Jr., Juice Newton, Paul Revere & the Raiders, and Davy Jones.
Below are a few images of this year's gorgeous exhibits. Disney has yet to announce which topiaries and celebrities will appear in 2012, but the dates of the 19th annual Epcot International Flower and Garden Festival have officially been set for March 7th to May 20th.
The topiary exhibits are undeniably gorgeous, but what makes Epcot's festival even more impressive is how quickly the exhibits are assembled – literally overnight – on the eve of the festival's debut. The time-lapse video below shows Disney's botanical experts hard at work assembling the Toy Story 3 topiaries at the entrance to Epcot.