HGTV: My Yard Goes Disney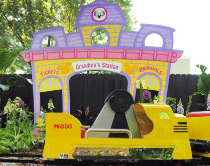 Do Mondays get you feeling down? Could you use a dose of Disney but can't afford to swing by Disney World on your commute home every night? What if Disney was in your very own backyard? Would you have time to enjoy it then?
HGTV's new reality series, "My Yard Goes Disney", is an extreme makeover series that surprises homeowners by transforming their backyards into Disney-inspired masterpieces. The series debuted on June 6th, and recent episodes have seen backyards transformed into a pirate adventure and an Animal Kingdom-inspired safari, while other backyards were given a Mickey-shaped pool and a hand-powered train to Grandma's.
HGTV is a sponsor of the Epcot International Flower and Garden Festival, and this new series is an extension of the cable network's partnership with Disney. The two promos below feature before and after footage of two of the yards that have been transformed so far and reactions from some of the family members. The makeovers are truly spectacular with touches of Disney magic everywhere, and it's easy to see how Disney fans, young and old alike, would be enchanted to have a little piece of Disney heaven right in their backyards.
For more Disney makeovers to relieve your Monday blues, watch "My Yard Goes Disney" on HGTV, Mondays at 8 pm/7 central.