it's a small world at Nordstrom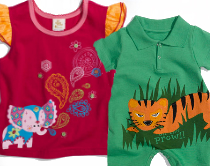 "it's a small world" is one of the most polarizing attractions at the Disney theme parks. The charming boat ride through scenes of frolicking animatronic, ethnically diverse children singing in the spirit of international unity, is a ride you either love or you hate. But even if you refuse to ride "it's a small world" for fear of getting the saccharine, over-long, and repetitive theme song stuck in your head, you'll have a hard time denying that the ride, originally featured at the 1964 New York World's Fair before it moved to Disneyland in 1966, is just so darn… precious.
And what could be even more precious than "it's a small world", you ask? Why, children's clothing inspired by "it's a small world", of course!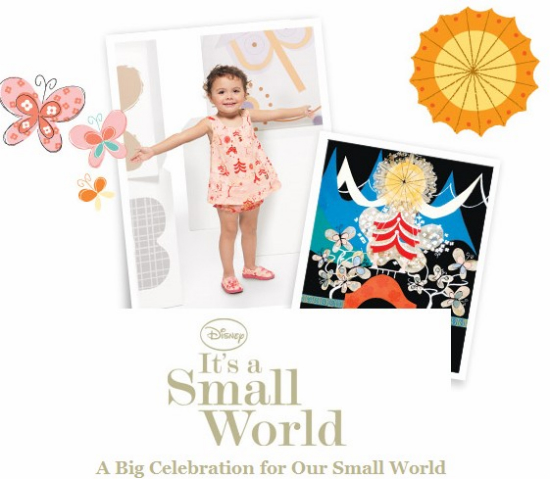 To celebrate the 45th anniversary of the attraction, the upscale department chain Nordstrom teamed up with Disney for a new line of children's apparel, accessories, and footwear inspired by Disney artist Mary Blair's original artwork for "it's a small world".
The line is being released in four seasonal collections for newborns, infants, and toddlers. Each season represents an individual country: "Japanese Spring" launched in February, followed by "Indian Summer" in June. "Scottish Fall" debuts in September, and the final collection, "Russian Holiday", is scheduled for November. Items are priced from $18 to $169 and are made by Nordstrom collaborators such as Petunia Pickle Bottom, TOMS Shoes, FEED, Trumpette, Baby Nay, and Mighty Fine.
Experience the "it's a small world" ride in the YouTube video below, and then compare the whimsical characters and charming sets with the clothes from the Nordstrom collection. Do you see the similarities? Shop the collection at Nordstrom now!
During the 1964 New York World's Fair, proceeds from the ticket sales for "it's a small world" were donated to UNICEF. In the spirit of Walt Disney's philanthropy, TOMS Shoes will give a pair of new shoes to children in need with the sale of certain items, and FEED Projects sales will benefit UNICEF, enabling the organization to provide vitamin supplements to children in need. With any purchase from the collection, customers will receive a collectable, limited-edition lithograph of Mary Blair's artwork for each season while supplies last.