Make It Or Break It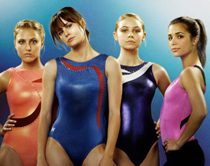 ABC Family is a cable network that specializes in contemporary family programing, and it is one of the networks owned by the Disney-ABC Television Group (along with A&E, Lifetime, the former SOAPnet, and all of the ABC and Disney channels).
I recently finished a 40-episode Netflix marathon of one of ABC Family's original series, Make It or Break It, and I gotta say, I loved it. The teen-centric series follows the lives of four elite gymnasts as they tumble their way through the gym, relationships, betrayals, injuries, eating disorders, and family dysfunction in their quest for Olympic gold.
The four friends/frenemies are Payson Keeler (Ayla Kell), an intense and super-focused athlete who's used to being number one until a major injury sidelines her; Kaylie Cruz (Josie Loren), a gymnast whose sudden rise up the ranks leads to self-doubt and an eating disorder; manipulative, boy-crazy Lauren Tanner (Cassie Scerbo) who will do whatever it takes to get her man, her father's attention, and her place on the podium; and new girl from the wrong side of the tracks, Emily Kmetko (Chelsea Hobbs), who struggles to rise above her background and prove that she belongs with the elites.
The series begins in 2009 with the girls at the Rocky Mountain Gymnastics Training Center ("The Rock") in Boulder, CO competing for the gym rankings (the coveted top three positions) they will carry with them to Nationals in two months. In the 39 episodes that follow, the girls compete at Nationals, join the National Team, and survive heartbreaks, lost scholarships, and split families. Eventually, some of them go on to compete in the 2010 World Championship, with dreams of Olympic gold in 2012.
Unfortunately, we may never see their Olympic dreams materialize as there has been no official word on whether Make It or Break It will be renewed for a third season. The series did not perform as well as its lead-in, the ABC Family hit, The Secret Life of the American Teenager, in the ratings. I'm hoping that Make It or Break It gets a third season since it has turned out to be my perfect guilty pleasure: lots of pleasure with just a little bit guilty.

THE PROS: Although some of the storylines tend toward the melodramatic and are often predictable, the acting is solid, and most of the characters are likable, even if somewhat two-dimensional. There is no series star, and the stories are split pretty evenly between the four leads and their families, which makes for a nice balance – too much of Lauren's bitchiness, Payson's zeal, Kaylie's self-absorption, and Emily's stupid mistakes could get old pretty quickly. The adult supporting cast is great, especially coach Sasha Beloff (Neil Jackson) and Payson's mom, Kim Keeler (Peri Gilpin of Fraiser fame).
Most impressive is the editing and effects that flawlessly combine footage of the actresses with stunt doubles performing floor, vault, beam, and bars routines at elite gymnast levels. The stunt doubles are excellent, and the effectiveness of the editing is enhanced by the actresses' real-life dance and gymnastics experience. They may not be able to do Arabians or double layouts with a twist in their floor routines, but they are clearly flexible and can move gracefully enough for the stunt doubles to be believable.
Gymnastics fans will be happy to spot a number of high-profile guest stars, including gymnasts Nastia Liukin and Nadia Comaneci as themselves, and coach Béla Károlyi as Dmitri Beloff, Sasha Beloff's dad.
THE CONS: Like several other ABC Family productions, the show can get a bit preachy when it comes to issues of sexuality, especially with the supporting character Summer Van Horne, a conservative Christian woman, played by conservative Christian Candace Cameron Bure, who serves as a moral ideal (and polar opposite) for her would-be step daughter Lauren. But rather than being written as entirely one-dimensional, Summer is a fairly fleshed out character, and even though she represents an ideal, she doesn't try to force her beliefs on the other characters, and the girls are free to make their own choices and inevitable mistakes.
Around half-way through, the second season becomes a little bogged down in the melodrama, and one of the leads gets an unexpected write-off due to the actress's real-life pregnancy. Fortunately, Kelly Parker, is there to step in, and the scheming former World Champion is given a nice character arc to make her more sympathetic.
With the 2012 Summer Olympics just around the corner, Make It or Break It is a timely and pleasant diversion to bide time until the Olympians take over our televisions once again. I can't say whether the series is at all realistic in its portrayal of elite gymnastics, but if there's one thing it got right, it's this: no matter what the drama may be, the Americans have only one real enemy: tiny Chinese gymnasts. And they must be destroyed.