The D23 Expo Returns!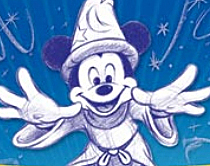 San Diego's Comic-Con may be the preeminent event for comic book fans eager for sneak peeks of new properties, but for Disney fans, the can't miss event is the D23 Expo.
The D23 Expo is hosted by D23, the Official Disney Fan Club. For $34.99/year (Silver Membership) or $74.99/year (Gold Membership), D23 members enjoy special member events, a subscription to the D23 FanFare e-newsletter, promotional offers and discounts, and four issues of the Disney twenty-three collectible magazine (Gold members only).

In 2009, the first D23 Expo was held in Anaheim, California and featured pavilions from Walt Disney Imagineering and Disney Consumer Products which showcased models for future attractions and Disney-exclusive products. There were also sneak peeks of upcoming Disney films and appearances by celebrities such as John Travolta, Miley Cyrus, Johnny Depp, and Nicholas Cage. The Expo's most anticipated announcement confirmed the planned expansion of the Magic Kingdom's Fantasyland in 2012-2013. These expansion plans were later revised, scrapping Cinderella's chateau and Sleeping Beauty's cottage in favor of a Seven Dwarfs Mine Train and the Princess Fairytale Hall.
There was no Expo held in 2010, so the Walt Disney Company should have plenty to debut at this year's convention which takes place August 19th-21st at the Anaheim Convention Center. The three day event is jam-packed with presentations and panels, including celebrity appearances, artist meet and greets, world premiere screenings, behind the scenes with Imagineers, performances by Radio Disney stars, contests, trivia, and more! There's guaranteed fun for the whole family, with storytime and Disney Channel character appearances for the kids, and panels by Disney artists, animators, and authors for the parents. The full schedule of events can be found here.
This year's D23 Expo Talent Round-Up includes miniaturist and sculptor Robert Olszewski; Precious Moments Doll artist Linda Rick; authors Ridley Pearson, Don Ballard, and Dave Berry; original Tinker Bell model Margaret Kerry; filmmakers Gregg and Jeff Sherman, Don Hahn, Ted Thomas, and Kuniko Okubo; Walt Disney Archives founder Dave Smith; artists Mike Clitherow and Larry Nikolai; and ABC Family's Melissa Joan Hart and Joey Lawrence. Sneak peeks and screenings will include sneak peeks and screenings will include The Avengers, The Muppets, John Carter, Brave, The Lion King in 3D, Frankenweenie, Oz The Great and Powerful, Once Upon A Time, Prep & Landing: Naughty vs. Nice, and many others.
Disney Channel Celebrity Appearances include the casts of Good Luck Charlie, Lemonade Mouth, So Random!, Phineas and Ferb, Kickin' It, Fish Hooks, A.N.T. Farm, Handy Manny, Special Agent Oso, Pair of Kings, and Shake It Up. Many other celebrities are scheduled to appear throughout the Expo, including Jennifer Garner, Dick Van Dyke, Willem Dafoe, Kermit the Frog, Miss Piggy, Jason Segel, Marty Sklar, Alice Davis, Michael Giacchino, Tony Baxter, Tom Bergeron, Regis Philbin, Jodi Benson, Lea Salonga, Linda Larkin, Paige O'Hara, Anika Noni Rose, David Arquette, Jason Dolley, Hayley Kiyoko, Sterling Knight, Tiffany Thornton, Sarah Silverman, Jack McBrayer, Kelly MacDonald, Kevin McKidd, Lynn Collins, Taylor Kitsch, Wilmer Valderrama, Sean Astin, Melissa Joan Hart, Sean Astin, Chelsea Kane, Kyle Massey, cast members from Marvel's The Avengers and many more.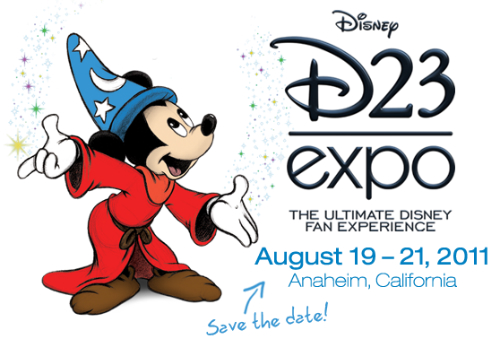 Some 2011 D23 Expo Highlights:

Treasures of the Walt Disney Archives Exhibit: Featuring props, costumes and set pieces from LOST, Pirates of the Caribbean, and 1982's Tron, as well as a display of vintage Mickey Mouse memorabilia and more.

Pixar Shorts: Celebrate the 25th anniversary of Pixar Animation Studios with this retrospective screening of the Studio's legendary shorts.

Walt Disney Parks and Resorts: Get a glimpse into some of the exciting projects currently underway at Disney's parks and resorts.

Ultimate Disney Trivia Tournament: One very knowledgeable individual will be crowned Ultimate Disney Trivia Champion.

Radio Disney Road Crew (D23 Members Only): Pump up the music with a dance session and Radio Disney fun for kids and families.

The Walt Disney Studios: Exclusive video clips, live performances, filmmaker discussions, star appearances and more!

Screening of ABC's Once Upon a Time: Edward Kitsis and Adam Horowitz bring you a bold, new series about fairy-tale characters.

Disney Store Costume Preview Parade: From princesses to pirates, the Disney Store has a costume parade every Disney fan can enjoy.

The Characters of Monsters University: Character designers behind Pixar's upcoming animated feature Monsters University come together to discuss how they bring these wonderful characters to life.

The Lion King 3D: Get an exclusive advance screening of the Disney Digital 3D version of The Lion King.

Imagineering the Dream and the Fantasy: Imagineers Joe Lanzisero and Bob Zalk talk about the design of Disney's latest cruise ships.

The Art of Brave: Join us for an afternoon of conversation and art with Steve Pilcher and Tia Kratter as we uncover the secrets behind Pixar's detailed process.

Disney Channel: A spectacular live performance, featuring the stars of Disney Channel's hit series Shake It Up.