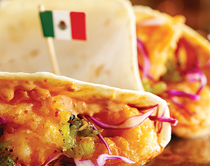 If you are visiting Epcot this fall, make sure you come hungry.
This year, the 16th Epcot International Food & Wine Festival begins on September 30th and runs through November 13th. The 45-day festival is a celebration of food and wine from around the world, including the eleven countries represented in Epcot's World Showcase: Canada, Mexico, Norway, Morocco, China, Germany, Italy, Japan, France, the United Kingdom, and the United States.
When my husband and I visited Disney World for our honeymoon last fall, we were disappointed to discover that we missed the beginning of the Food & Wine Festival by less than a week. The food and wine tasting booths were already in place and the event flags were hanging, but alas, we were not able to eat.
If you plan to attend this year's Festival, you can pick up a Marketplace Discovery Passport at the Festival Welcome Center, and whenever you eat at the international marketplace, you will receive a unique stamp on your passport. At the end of your stay, you can take your passport home as a fun keepsake and a memory of the exotic and delicious foods that you sampled.