Bambi II: Out of the Vault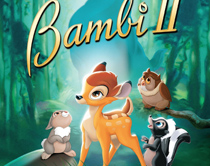 Disney animated sequels are generally considered to be inferior to the originals (some substantially so), and most go straight to home video instead of receiving theatrical releases. In the past fifteen years, Disney has produced sequels to Pocahontas (1995), The Lion King (1994), Fantasia (1940), The Little Mermaid (1989), Lady and the Tramp (1955), Cinderella (1950), 101 Dalmatians (1961), Peter Pan (1953), The Jungle Book (1967), Mulan (1998), The Fox and the Hound (1981), Bambi (1942), and even a planned sequel to Dumbo (1941) that was later scraped.
Bambi II was first released on home video in the United States in February, 2006, 64 years after the original Bambi (1942) premiered in theaters. The film is actually a midquel, meaning that the events of the story take place within the timeline of the original film, in this case when the young, newly motherless Bambi is getting to know his father, the Great Prince of the Forest.
Thumper and Flower return in Bambi II as Bambi's best friends, and the roles of the pretty doe Faline and the young buck Ronno are expanded as Bambi begins a relationship with the former and a rivalry with the latter. When Bambi and Ronno come of age in Bambi, the rivals fight over Faline, and when Bambi defeats Ronno, he secures his place as the next Prince of the Forest.
For years I was under the impression that the Disney Vault was reserved exclusively for non-sequel films, especially those that belong in the official Disney Animated Canon, but apparently Bambi II has been in the Vault since its initial 2006 release, and now it's out again as a Special Edition Disney DVD and Blu-ray. Buy the Blu-ray/DVD Combo Pack at Amazon now.
The Bambi II 2-Disc Blu-ray/DVD Combo Pack includes the following:

Blu-ray + DVD
Friend Owl's Fun Forest Games: Three Interactive Learning Games
Deleted Song "Sing The Day"
Thumper's Hurry & Scurry Interactive Game
Disney's Sketch Pad" Learn How To Draw Thumper
The Legacy Continues: A Making-Of Featurette
Bambi's Trivia Tracks: Pop-Up Text Reveals Fun Facts About The Movie
Other Bambi II Fun: