Newsies the Musical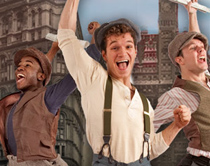 In 1992, Walt Disney Pictures released Newsies, a musical set in 1899 based on the true story of the Newsboys Strike of 1899 in New York City.
The young Christian Bale plays Jack "Cowboy" Kelly, a newsboy who sells papers for Joseph Pulitzer's New York World. When Pulitzer and rival newsman William Randolph Hearst jointly raise the price of newspapers for distribution by one-tenth of a cent, Jack and his friends can no longer afford to buy the papers. A disgruntled Jack is inspired to organize the other newsboys in a strike to reverse the price hike, and of course the strike is a success, after all, this is a Disney film.
The original movie features a score by the very talented composer Alan Menken (The Little Mermaid, Beauty and the Beast, Aladdin, Enchanted, Tangled) and marked the directorial debut of choreographer Kenny Ortega (best known for directing and producing the High School Musical franchise). Now, almost 20 years later, Newsies has been adapted for the stage, following in the footsteps of Disney's wildly successful Mary Poppins and The Lion King.
Newsies the Musical began previews on September 15th at the Paper Mill Playhouse in Millburn, New Jersey and is scheduled to run through October 16th. Newsies star Jeremy Jordan is busy this season. In addition to playing Jack Kelly, Jordan is also starring as Clyde in the Bonnie & Clyde musical which opens for previews on Broadway on November 11th.
Tickets to Newsies can be purchased online at the Paper Mill Playhouse website. Tickets run from $25 and $96, depending on the date and mezzanine versus orchestra seating.
Goldstar.com recently offered discounted tickets to Newsies ($34.50 tickets, regularly priced at $69.00) for performances on September 22nd and 23rd, but those offers have already expired. If you're interested in seeing the musical and would like to get discounted tickets, I'd recommend registering with Goldstar (it's free!) and checking the site for future offers. If I hear about any new discounts, I will post them here!