Make It or Break It Returns!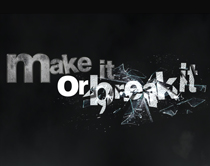 This summer, I watched a Make It Or Break It marathon on Netflix where all 40 episodes of the ABC Family drama about elite gymnasts-in-training are available to Watch Instantly. When I was a tweenager, I was obsessed with the "Magnificent Seven" 1996 Olympic Gymnastics Team and their quest for real-life Olympic gold, and 15 years later, Make It Or Break It is my perfect guilty pleasure.
The series centers on four gymnasts: newcomer Emily Kmetko, uber-focused Payson Keeler, diva Kaylie Cruz, and manipulative backstabber Lauren Tanner, who are frenemies at the Rocky Mountain Gymnastics Training Center (The Rock) where they compete to make the National, Worlds, and (eventual) 2012 Olympic gymnastics teams. I first gushed about the series this past June, with my take on the series' PROS (solid acting, excellent gymnastics, melodrama) and CONS (preachiness, predictable storylines, melodrama).
At the time of my last post, Make It Or Break It had yet to be renewed for a third season, but fans will be thrilled to learn that the series will definitely return in spring 2012 for a minimum eight episode run. With the first two seasons available on Netflix and the upcoming 2012 Olympics creating buzz, interest should be high enough for the series to get a full Season Three pick up.
I honestly can't wait to see more of the series, and I hope the producers bring back Chelsea Hobbs as Emily Kmetko who was unceremoniously booted from Season Two due to the actress's real-life pregnancy. And I hope that Lauren Tanner eventually gets her comeuppance because that girl gets away with way too much.
To celebrate the delayed Season Three (and to refresh memories after such a long wait), here's a recap of Make It Or Break It's first forty episodes below. Warning: Spoilers!
Season One

1.1 Pilot – Emily Kmetko is the new gymnast from the wrong side of the tracks, and Lauren Tanner feels threatened that she will usurp her position as one of the top four gymnasts at The Rock training center.

1.2 Where's Marty – At Lauren's request, her father Steve Tanner arranges to have Coach Marty transferred along with Lauren to a different gym, leaving The Rock's remaining gymnasts without a coach and with less of a chance of making it to Nationals.

1.3 Blowing Off Steam – Former gymnastics champion Sasha Beloff is wooed as a new coach for The Rock, and the gymnasts blow off steam at a high school party where Lauren Tanner hooks up with Carter Anderson, a male gymnast and Kaylie Cruz's boyfriend.

1.4 Sunday, Bloody Sasha, Sunday – New coach Sasha Beloff makes the gymnasts train harder than they've ever trained before as penance for their partying. Carter feels guilty for cheating on Kaylie with Lauren.

1.5 Like Mother, Like Daughter, Like Supermodel – The Rock's new manager Kim Keeler arranges for the gym to raise money to send the girls to Nationals by hosting a mother-daughter fashion show. A jealous Lauren steals Emily's dress to get Carter to notice her.

1.6 Between a Rock and a Hard Place – The Rock hosts a gymnastics meet against the rival Denver Elite gym and National Champion Kelly Parker. Payson Keeler is determined to beat Kelly, despite an old injury that is flaring up, and Emily attempts a hard dismount against Coach Sasha's orders, ruining The Rock's chances of winning.

1.7 Run, Emily, Run – When Sasha refuses to let Emily continue at The Rock after she disobeyed him at the meet with Denver Elite, Emily trains in secret at The Rock with her Pizza Shack co-worker Damon Young, in the hope that Sasha will let her back on the team.

1.8 All's Fair in Love, War, and Gymnastics – Kaylie gets in big trouble with her Dad when Lauren reveals her relationship with Carter, and Payson starts taking cortisone for her back injury against her parent's knowledge.

1.9 Where's Kaylie? – After Carter reveals his affair with Lauren, Kaylie runs away on the night before the gymnasts leave for Nationals. The girls track Kaylie down at a gymnastics summer camp where they went as kids, and the foursome agree to be teammates again – if not friends – with Emily as their captain.

1.10 All That Glitters – The girls compete at the Nationals Gymnastics Championship in Boston to try to make the National Team. Frontrunner Payson fractures her back in a bars routine and suffers an inoperable injury. In a surprise upset, Kaylie beats returning Champion Kelly Parker and takes her place as the new National Champion.

1.11 The Eleventh Hour – Payson struggles to come to terms with her injury and Kaylie tries to adjust to being the new National Champion and all of the added pressures and publicity that the role entails.

1.12 Follow the Leader – Marty returns to coach the Nationals Team but the girls would much rather have Sasha as their coach, and they try to get Marty ousted.

1.13 California Girls – Kaylie, Emily, and Payson travel to Los Angeles for an A-list party and they are pursued by a jealous Lauren who ends up saving Kaylie from the paparazzi.

1.14 Are We Having Fun Yet? – Emily's nerves get the better of her when she Googles herself to discover that she's being judged negatively online, and Payson has trouble adjusting as the new girl at a public high school.

1.15 Loves Me, Loves Me Not – Valentine's Day brings lots of drama to The Rock as Emily breaks up with Damon, Sasha kisses Summer van Horne, Lauren's almost-stepmother, and Payson finds out there is an experimental treatment that may let her do gymnastics again.

1.16 Save the Last Dance – The gymnasts are thrilled to have the opportunity to be normal teenage girls when they attend the prom at Payson's new high school. Lauren discovers that her father has been secretly dating Emily's mom Chloe Kmetko after he buys Emily a dress for the prom.

1.17 Hope and Faith – The girls prepare to impress the National Committee so they will be chosen to join the Nationals Team on a meet in Beijing but Emily and Kaylie are psyched out by their competitors and are not picked for the meet.

1.18 The Great Wall – The Rock hosts a fundraiser to pay for the Chinese Team to visit The Rock to compete with the gymnasts who didn't make it to Beijing, and the girls rig the bingo game so Payson's family will win the $10,000 prize to pay for Payson's back surgery.

1.19 The Only Thing We Have to Fear – The Rock girls are in lock-down at the gym to prepare for their meet with the Chinese Team. Payson works to overcome her fears of returning to gymnastics after her successful surgery and Ellen Beals at the National Committee tries to manipulate Kaylie and Emily into backing out of the meet.

1.20 Are We Family? – The gymnasts finally compete at The Rock against the Chinese Team, their toughest international competitors. Payson performs her first bars routine after her injury at Nationals and Kaylie manages to snag a gold medal on the beam over the Chinese star Gengi Cho. After Damon wins a radio contest to go on tour in Europe, he confesses on the radio that he loves Emily, but she misses her opportunity to say goodbye before his flight leaves.

Season Two

2.1 Friends Close, Enemies Closer – After defying the National Committee, the girls are worried that they won't be allowed to attend the next meet in France without succumbing to Ellen Beals' demands.

2.2 All or Nothing – Payson won't admit that her body changed after her injury and she goes against Sasha's wishes to petition before the Committee in France for her shot to join the Nationals Team, but her petition is denied. Emily sneaks out to meet with Damon on tour and is suspended from the Team with alternate Lauren taking her place.

2.3 Battle of the Flexes – The men's Olympic champion Austin Tucker begins training at The Rock, and his presence fuels a battle of the sexes over whether the men's or women's training equipment will get priority placement.

2.4 And the Rocky Goes To… – The girls compete over who will win awards at The Rockies, the gym's annual awards banquet dinner.

2.5 I Won't Dance, Don't Ask Me – The girls struggle to choreograph new dance-centric floor routines and Lauren eagerly awaits for Carter to commit to the "L" word.

2.6 Party Gone Out of Bounds – Lauren continues trying to break up Chloe and her father by making threats against Emily's mother, but in the end it's Chloe with the upper hand when she catches Lauren and Carter in bed.

2.7 What Are You Made Of? – Payson attends a ballet class to work on new skills that will help her become more of an artistic gymnast. Kaylie, Emily, and Lauren all make the Worlds Team.

2.8 Rock Bottom – Chloe threatens to reveal Lauren's relationship with Carter, and her relationship with Lauren's dad finally ends. The Kmetkos discover that Steve Tanner has been bankrolling Emily after her scholarship was revoked and they decline any future money and end up in dire financial need. Without the money to pay for her brother's medication, Emily steals the pills and ends up arrested.

2.9 If Only… – Lauren discovers a tape of Payson's innocent kiss with Sacha and edits the footage to make it more incriminating before sending it to Ellen Beals. Lauren's mom dies in a car accident after Steve refuses to let her see Emily and Emily and Damon break up.

2.10 At the Edge of the Worlds – Sascha is suspended from The Rock because of his kiss with Payson. Weakened by the eating disorder she's been keeping secret from her family and friends, Kaylie collapses during her audition for the Worlds Team. Payson performs for the judges, showing off her new artistic grace for the first time, and Emily makes her tryouts before she is arrested again for missing her court date.

2.11 The New Normal – Kaylie is stuck in a rehab center for eating disorders while Emily, Payson, and Lauren go to Denver to compete in an exhibition. Emily is embarrassed to be seen wearing an ankle monitoring device and Sasha decides to return to Romania despite Kim Keeler's efforts to convince him to stay.

2.12 Free People – 25 year old Olympic gymnast Darby Conrad takes Sasha's place as the new coach at The Rock and suspends the dating and curfew rules. Steve and Summer rekindle their romance, Emily and Damon sleep together for the first time, and Kaylie is freed from rehab although she's not quite cured.

2.13 The Buddy System – Payson and Lauren bicker as the new co-captains of The Rock and Darby forces them to learn each other's routines to bring them closer together. Kaylie's rehab-cheating anorexic friend Maeve dies of her disease which convinces Kaylie to take her recovery much more seriously.

2.14 Life or Death – As Kaylie copes with Maeve's, death she becomes closer to Damon and ends up as his songwriting muse as they work together in her family's recording studio. The Rock hosts a meet against Pinewood Gymnastics Club, the worst gym in the country, and ends up losing, thanks in large part to Darby's terrible coaching.

2.15 Hungary Heart – While on the way to a meet in Hungary, Payson convinces the other three to sneak off with her to Romania to try to convince Sasha to come back. Sasha agrees to return as their coach, and when they make it to the Hungary meet, Emily finds out that she's pregnant.

2.16 Requiem for a Dream – Emily is forced to choose between having her baby and continuing with gymnastics, and she ultimately decides to keep her baby. She shares the news with Damon but when she finds out about his kiss with Kaylie, she runs off to Las Vegas to live with her grandmother. Sasha is chosen as the new National Team coach.

2.17 To Thine Own Self Be True – Emily is replaced by Kelly Parker on the Worlds Team and Kaylie is at risk of being replaced after she returns to training because of all of the time she spent in rehab. Kaylie breaks into the gym after hours to train and Sasha agrees to take her, Tessa Grande, and Annie Dillon to Worlds where he will choose the last member of the Team.

2.18 Dog Eat Dog – Kelly Parker's pushy mom/manager Sheila comes to town and berates her daughter for letting Kaylie steal her spotlight. Kaylie wins her spot on the Worlds Team and Sheila and Kelly scheme to get proof of Kaylie's anorexia so she will lose her sponsors.

2.19 What Lies Beneath – Uncomfortable with her new Healthy Bar promotional deal, Kaylie tries to convince the company to sponsor Payson instead so Payson's family will be able to afford to go to Worlds. Summer breaks up with Steve when she discovers he has been keeping Lauren's secret about the video of Payson and Sasha kissing, and Payson's and Lauren's love interest Max reveals to Austin that he is bisexual.

2.20 Worlds Apart – Lauren and Max are in a car accident but Lauren suffers only minor injuries. Kaylie finally reveals to the press that she suffered from anorexia and not an ACL injury. The girls compete in the World Championship against their top competitors from China and Russia, and after a poor performance in the qualifying round and after Payson suffers another injury on the vault, the team comes from behind to win the gold medal.