The Lion King in 3D is a Big Success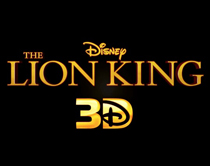 17 years after Disney's The Lion King hit theaters in 1994 and nine years after the IMAX re-release in 2002, The Lion King returned to theaters last month on September 16th – and this time it came in 3D.
Originally heralded as a limited 2-week release, more than 2,000 theaters have carried The Lion King in 3D for more than 5 weeks, and the film has earned $87 million at the box office to date, including the $52 million it made from two consecutive weeks at the top of the domestic box office.
Converting a traditionally 2D movie to 3D is an expensive process, but The Lion King's 3D run has been a smashing success, far out-grossing the $15.6 million earned by the 2002 IMAX release and bringing the film's total worldwide lifetime box office gross to more than $900 million. When adjusted for ticket price inflation, The Lion King is currently ranked #18 in the all time domestic box office. Only two other traditionally animated films have grossed more: Snow White and the Seven Dwarfs (1937) and 101 Dalmatians (1961).
The Lion King helped break all time September box office records, and thanks to the film's success, Disney plans to re-release four other animated films in 3D for limited theatrical runs in 2012 and 2013. Disney-Pixar's Monsters, Inc. will return to theaters six months before the film's prequel, Monsters University is released in June 2013.
| | | |
| --- | --- | --- |
| Film | Original Release | 3D Re-Release |
| Beauty and the Beast | November 15th, 1991 | January 13th, 2012 |
| Finding Nemo | May 30th, 2003 | September 14th, 2012 |
| Monsters, Inc. | November 2nd, 2001 | January 18th, 2013 |
| The Little Mermaid | November 17th, 1989 | September 13th, 2013 |

For fans eager to own the film, on October 4th The Lion King was released from the Disney Vault as a special Diamond Edition in HD Blu-ray and Blu-ray 3D in the US and Canada. On November 15th, the film will be released as a DVD-only Edition. The various Disney Blu-ray/DVD combo packages are currently available to buy on Amazon.com.