Who Will Win the Ultimate Dance Off?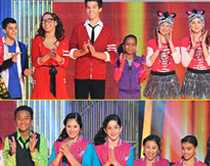 Earlier tonight the Disney Channel aired the premiere of Make Your Mark: The Ultimate Dance Off 'Shake It Up' Edition. The six semi-finalists (Amir, Arjang, Jade, AKsquared, Christine and June, and Casey and Sam) showed off their best dance moves for celebrity judges Selena Gomez, Sean Kingston, Rosero McCoy, and millions of Disney Channel viewers.
For two hours after the event, fans were able to vote up to 5 times by text and 5 times online for their favorite contestants. I have had trouble getting onto the official Make Your Mark website to cast my vote, which makes me think that Disney's website wasn't prepared to handle a huge jump in traffic from excited fans eager to vote online.
The winner of the Ultimate Dance Off will be revealed in a special results show that will air on the Disney Channel on Sunday, October 16th at 8:30pm ET/PT. In the meantime, let us know who you think will win the coveted featured dancer role on a brand new episode of Shake It Up.
Who do you think will win the Ultimate Dance Off?
AKsquared (45%, 499 Votes)
Jade (19%, 212 Votes)
Amir (14%, 157 Votes)
Sam and Casey (9%, 100 Votes)
Arjang (8%, 94 Votes)
Christine and June (5%, 48 Votes)
Total Voters: 1,110

Loading ...