Make Your Mark: Submit Now!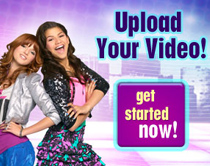 With four weeks until the end of auditions for this year's Make Your Mark: Shake It Up Dance Off, the competition is already rocking. Already, more than 6,400 audition videos have been submitted by aspiring dancers from across America and are available to view online.
This year's Make Your Mark website is different than last year's. Disney has nixed the STAR and THUMBS UP icons used to distinguish last year's featured and most popular audition videos. This year, viewers can search the audition videos by song ("Don't Push Me", "TTYLXOX", "Something to Dance For", "Whodunit"), and by "Number of Dancers", "Dance Style", and "Fun Stuff" (Cool Location, BFFs, Fresh Personality, etc.). Viewers can "Like" videos and post responses from a selection of pre-approved comments.
Unfortunately, one thing that hasn't changed is the sluggish web speed. Just like last year, the Make Your Mark server can't quite handle the huge bandwidth needed to stream all of the audition videos. While browsing the auditions, the site runs slowly and the videos frequently freeze up, even when connected to a high speed Wi-Fi Internet connection. Hopefully the kinks will be worked out in time for next year's competition. In the meantime, patience is a necessary virtue.
In addition to watching the user-submitted videos, Make Your Mark fans can learn the latest dance moves from a series of more than 30 instructional dance videos. Dancers seeking inspiration for their own choreography can learn moves like the Latin Slide, Swivel Foot, CeCe Bounce, and dozens more.
The 2012 Make Your Mark: Shake It Up Dance Off auditions end August 6th. The semi-finalists will be announced on September 14th and will appear in a Disney Channel televised event in October. Submit your auditions now! Best of luck to all participants!
Make Your Mark 2012: Quick Links