Congratulations, DJ's Mix!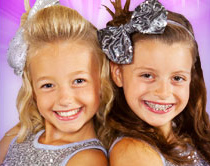 Three out of six finalists made it to Make Your Mark's Sunday night results show, and the ultimate winners were pint-size powerhouses DJ's Mix who beat Starley and Chris and Team Identity to win featured performances as Spotlight Dancers on Disney Channel's Shake It Up.
Based on Blogging Disney's completely unofficial (and completely unscientific) poll results, DJ's Mix were the clear favorites following Friday night's competition. They had a commanding lead over the other competitors with 72% of the votes, much like last year's poll winners, AKSquared (45% of the votes), who also won the first-ever Make Your Mark competition.
Winning isn't all that AKSquared and DJ's Mix have in common. Like last year's winners, DJ's Mix features spunky, flexible female dancers who spiced up their dance routines with gymnastics moves (aerial cartwheels and walkovers) to show off the full range of their acrobatic abilities. What nine-year-old dancers Jaycee and Dylynn lacked in polish and originality, they made up for in personality and charismatic smiles that lit up the stage. They were clearly having the time of their lives.
Some Disney Channel fans were disappointed that the Make Your Mark winners were once again flexible girls whose performances were more like gymnastics floor routines than dance routines. In both years, Make Your Mark voters ultimately favored showy, acrobatic moves over the more stylized and choreographed performances by finalists Starley and Chris and Team Identity.
With two successful competitions behind them, it is likely that Disney Channel will sponsor another Make Your Mark next year. In the past two competitions, the selection of the semi-finalists has been at the Make Your Mark producers' discretion. Will they once again choose finalists with gymnastics-heavy routines, or will next year's competition focus more on choreography and raw, self-trained talent?