Make Your Mark: 2012 Finalists!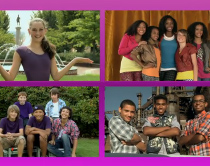 The second annual Make Your Mark competition has shown that 2012 is the year for dance groups. Five out of six of this year's finalists are groups, ranging from the brother-sister duo of Chris and Starley to the five guys of Bx5 Crew. Classically trained ballerina Ashley will be the lone dancer competing on her own against the other seventeen finalists.
On Friday, October 19th, the six finalist dance acts will compete in a televised event on the Disney Channel at 8pm/7 central. Following their performances, Disney Channel fans will be able to vote by phone, text, and online for their favorite performers, and the Make Your Mark: Shake It Up Dance Off winner will be announced on the Disney Channel on Sunday, October 21st.
With more than a week before the 2 Night Television Event, there's plenty of time to check out the finalists and get ready to cheer for your favorites on the 19th. Find out more about this year's competitors at Make Your Mark: Shake It Up Dance Off Finalists and tell us who you're going to vote for when the Make Your Mark: Shake It Up Dance Off airs!
2012 Make Your Mark: Shake It Up Dance Off – Finalists

DJ'S MIX

Dancers: Jaycee (9), Dylynn (10)

Jaycee and Dylynn of DJ's Mix combine extreme flexibility and gymnastics moves in their dance routines, much like last year's winners, AKSquared. But can they top this year's competition?

URBAN XTREME

Dancers: Star (13), Cori (13), Regan (13), Alisson (13), Ryan (14)

Urban Xtreme is a dance team of five best friends from California. These girls know how to rock and their hip hop dance moves are sure to impress.

TEAM IDENTITY

Dancers: Jay (15), Faustino (16), Xavier (15)

The Team Identity trio knows how to work a stage, and their slick style is inspired by the late, great Michael Jackson.

ASHLEY

Dancers: Ashley (15)

Classically trained ballerina Ashley is unique as the only solo performer in this year's competition. From her audition video, it's clear she can dance circles around the other dancers – literally.

STARLEY AND CHRIS

Dancers: Starley (14), Chris (16)

Last year, sisters Christine and June proved that siblings can do more than just rival, and this year Starley and Chris are a sister-brother duo bringing a funky, fun dance style into the mix.

BX5 CREW

Dancers: Levi (10), Brady (13), Jalen (12), Anthony (10), Marcus (11)

The counterpart of Urban Xtreme's five female dancers is Bx5 Crew's five guys, and they are just as talented. Five has been a magic number for boy groups in the past – will it work for Bx5?
Who are you voting for in the 2012 Make Your Mark: Shake It Up Dance Off?

DJ's Mix (48%, 283 Votes)
Bx5 Crew (25%, 146 Votes)
Urban Xtreme (9%, 54 Votes)
Starley and Chris (8%, 47 Votes)
Team Identity (5%, 31 Votes)
Ashley (5%, 28 Votes)

Total Voters: 589

Loading ...