Make Your Mark 2012: Who Will Win?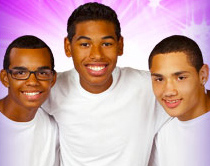 Friday night, millions watched as the finalists of the second annual Make Your Mark: Shake It Up Dance Off competed in the Disney Channel televised event. Eighteen talented dancers took the stage as members of five dance groups (DJ's Mix, Urban Xtreme, Bx5 Crew, Team Identity, Starley and Chris) and solo dancer Ashley.
When the performances were over, three finalists were eliminated (Urban Xtreme, Bx5 Crew and Ashley) and Disney Channel viewers had two hours to vote online, by text, or by phone for their favorite dancers of the three remaining competitors – DJ's Mix, Team Identity and Starley and Chris. Voting closed late Friday night and anticipation has run high ever since.
This weekend, Blogging Disney fans have posted hundreds of shout-outs and messages of support to their favorite competitors. An earlier (unofficial) site poll had the spunky duo of DJ's Mix in the lead, but we won't know who will win until Sunday night's results show.
Tune in Sunday, October 21st at 8pm/7c to see who will win the second-ever Make Your Mark competition and a coveted spotlight dancer performance on Disney Channel's Shake It Up.
Three finalists remain. Who do you think will win this year's Make Your Mark?

DJ's Mix (72%, 471 Votes)
Starley and Chris (18%, 116 Votes)
Team Identity (10%, 67 Votes)

Total Voters: 654

Loading ...