The Most Magical Time of the Year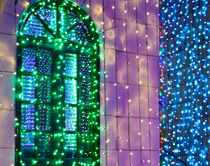 If you've never seen a spectacle of five million brilliant lights dancing in sync with beloved holiday songs, then you've never experienced Christmas at Disney's Hollywood Studios theme park.
Disney first acquired the Osborne Family Spectacle of Dancing Lights in 1995 from Jennings Osborne, an Arkansas family man who designed the holiday display for his young daughter. Over the years, the residential display grew increasingly more popular – and elaborate – attracting thousands of visitors every year until a court case initiated by overwhelmed, angry neighbors forced the family to shut it down.
Since its initial acquisition, Disney has added more lights, expanding the display from three million to five million, and in 2011, the display was given a major overhall as all of the original lights were replaced with more energy efficient LEDs and the lighting control system was upgraded to a state of the art entertainment system. Watch the lights in action in the video below, uploaded to YouTube by wdwmagic.
Meanwhile, 2,500 miles away in Anaheim, CA, Disneyland and California Adventures may not boast dancing lights shows, but the parks are decked out every year with charming displays of their own, from It's a Small World Holiday and A Nightmare Before Christmas-themed Haunted Mansion to cheerful decorations made from car parts in the new Cars Land.
And of course, like its Disney World counterpart, Disneyland's Sleeping Beauty's Castle is magically transformed every Christmas into an icicle-n-lights drenched winter marvel.
A Disney vacation can be wonderful almost any time of the year (outside of the hottest and most crowded summer days), but in winter when night falls and millions of lights twinkle in the darkness, all of the Disney parks are truly magical to behold.