2013 Flower and Garden Festival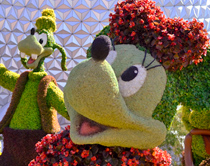 This year's long and chilly winter held the Northeast in its grip well through April, only to let up in time for an early summer heatwave. But while we northerners may have suffered a shortened spring, for Disney fans heading south, it was springtime-as-usual at Epcot's 20th Annual International Flower and Garden Festival which ran from March 6th – May 19th, 2013.
Every spring, Epcot dazzles in brilliant rainbow hues as elaborate flower beds and intricate topiaries are on display for two months, showcasing beloved Disney characters in a most magical and eco-friendly way. The 2013 festival was Epcot's 20th and it featured many popular topiary displays from previous years, along with some brand-new exhibits promoting Disney's Oz the Great and Powerful and Disney/Pixar's Monsters University.
Photographer Samantha McElhaney captured some of this year's best displays in the photographs below. If you just can't get enough of Disney-gone-green and want to see even more, check out our pictures from the 2011 Flower and Garden Festival.