Disney Fairies Fashion Boutique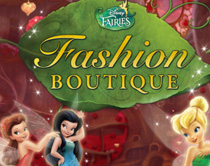 Several months ago, I downloaded the Disney Fairies Fashion Boutique app for the iPhone with the intent to write a review for Blogging Disney. I didn't expect to enjoy playing the app as much as I did, and yet here we are, weeks later, and I am still running a fashion boutique for fairies with clientele as illustrious as Tinker Bell herself.
A middle-schooler I recently tutored saw an app notification pop up on my phone and expressed with surprise, "I didn't know adults play Disney Fairies!" Well, we do. And we like it.
Gameplay for the Disney Fairies Fashion Boutique is simple. You start by creating a fairy avatar with a cutesy name (Primrose Twinklefield, in my case) or if you already have a Disney Fairies/Pixie Hollow account, you can import a pre-made avatar. Your fairy avatar is now the owner of a tiny fashion boutique with one mannequin and five insect and arachnid friends (caterpillar, spider, ladybug, firefly and roly poly) who are very good at making clothes.
The goal of the game is to attract clients to your boutique by dressing your mannequins in the latest fashions and then custom-making clothes on request that you sell to the fairies who frequent your shop. Early on in the game, the requests are simple: make a top that is green or bottoms that are blue, but as your boutique levels up, the clothing orders become more particular as your clients will ask for designs suitable for a specific season (summer, winter, spring, fall) or catered to the tastes of different fairy talents (tinker, earth, water, light and animal).
The more fashions you design and sell, the more pixie dust you earn which can be used to buy expansions for your shop including more mannequins (up to 10 total) and custom themes as your boutique gets larger to attract more fairy clients. As you meet game goals and level up your "fairy helpers" so they can make clothes more quickly, you can unlock six levels of fashions and an expansive color palette.
Fashions that are more detailed require more time to make and are worth more pixie dust points when they sell. Your clients will give you from 15 to 72 hours to complete a design request and your fairy helpers will take anywhere from 30 seconds to more than 24 hours to complete designs, depending on the fashion level and clothing type (tops, bottoms, shoes, headpieces, belts/sashes, necklaces, bracelets, anklets). Unless you use pixie diamonds to speed up the crafting, designs take real-time to make, making Disney Fairies Fashion Boutique a game of waiting, requiring a lot of patience and frequent app visits.
As with every app these days, the Fashion Boutique includes optional in-app purchases for pixie diamonds, pixie dust and materials that cost anywhere from $0.99 to $49.99 (that's a lot!). Of course, one thing I like most about the app is that you don't have to spend any money for full gameplay as you can earn free pixie diamonds, pixie dust and materials through meeting game goals. There is also a social media component that allows you to connect to your Pixie Hollow friends and other players through the app's Game Center where you are able to "gift" free pixie diamonds to your favorite boutiques.
Overall, I would rate this app very highly. It's a simple game, but the design options and color palette are so expansive that you can create thousands of different fashions, making the outfit combinations practically unlimited. Some fashion-forward boutique owners are especially clever and have recreated outfits worn by Disney princesses and other well-known characters.
The gameplay can be repetitive, especially when working to level up your fairy helpers. Each fairy helper has a different fashion skill (the spider makes thread, the caterpillar's fur can be shaved off like a sheep – no kidding!) and you have to play mini games to "train" your helpers to make clothes faster. The mini games only take 30 seconds – 2 minutes to play, but you have to play them dozens of times to max out your helpers at Level 6, and without more variation, that gets old very quickly.
Another feature that would make the app more fun is if you could buy fashions from other players, instead of only allowing sales to non-player game characters. The Game Center allows you to visit other boutiques, but not buy. But despite these limitations, the FREE Disney Fairies Fashion Boutique app is more than worth a download and can provide hours of fun for fashion designers in-training, both kids and adults (like me!).