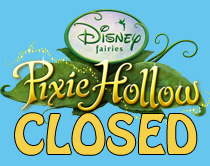 Blogging Disney has featured the world of Pixie Hollow on three previous occasions.
In August 2011, I blogged about the Disney Fairies Magazine and the Disney Fairies Fly mobile app: Tinker Bell and Disney Fairies Magazine.

In September 2011, I promoted the TV premiere and home video release of the Pixie Hollow Games movie with links to online games and contests. Pixie Hollow Games, Contests, and More!

And in July 2013, I gave a detailed review of one of my favorite Disney apps: Disney Fairies Fashion Boutique.