LEGO + DISNEY = <3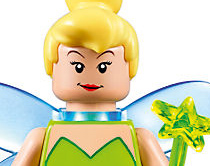 Disney fans who love LEGO® are in for a treat…and just in time for the holidays!
LEGO's partnership with Disney has produced some really fantastic sets, from the toddler-friendly, oversized DUPLO® bricks to the Disney Princess collection which features iconic sets and characters from Disney films in the popular (and girl-targeted) style of LEGO® Friends.
But this year, LEGO® has gone above and beyond to make Disney fans of all ages swoon – and clamor – for 2016's line of incredible sets.
The most impressive LEGO® Disney set is the towering The Disney Castle, a 4,000+ piece recreation of Cinderella's Castle, Disney World's iconic landmark which stands more than 2 feet tall and 1.5 feet wide in miniature form. This complex, extraordinarily detailed set is aimed at the AFOL (Adult Fans of LEGO) crowd and is recommended for builders ages 16+.
For parents who want to include their kids in The Disney Castle build, there's plenty of magical play to be had, with five brand-new minifigs: Mickey Mouse, Minnie Mouse, Donald Duck, Daisy Duck, and even Tinker Bell! The back of the castle is a cut-section of the rooms inside with surprises on every floor, including the enchanted rose from Beauty and the Beast, the wizard's hat from Fantasia, and Cinderella's glass slipper.
Of course, not everyone will be able to afford The Disney Castle's hefty price tag of $350 (yikes!). But Disney fans needn't mourn their loss, as there are dozens of other LEGO® sets to choose from, as well as a brand new line of collectible minifigures, The Disney Series. The series is a set of 18 Disney and Pixar figures (Mickey, Minnie, Donald, Daisy, Captain Hook, Peter Pan, Alice in Wonderland, the Cheshire Cat, Aladdin, the Genie, Ariel, Ursula, Maleficent, Stitch, Buzz Lightyear, Mr. Incredible, Syndrome, and a three-eyed alien from Toy Story), each sold separately in a surprise "mystery" bag and priced at $3.99.
Disney's newest animated star Moana is featured in two brand-new sets, Moana's Ocean Voyage and Moana's Island Adventure. And for the Frozen fans who just can't get enough of Anna and Elsa, there are two sets dedicated to both Princess' castles, Arendelle Castle Celebration and Elsa's Sparkling Ice Castle.
And for superhero fans, LEGO® has an entire line dedicated to Marvel Super Heroes, including The Avengers and Doctor Strange. There's definitely something for everyone – and every price range – in LEGO's 2016 Disney collections. Tis the season to buy LEGO®! Fa la la la la…col-lect, col-lect!