Disney Fairy Tales Quiz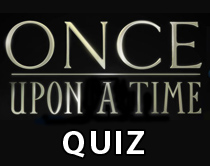 ABC's Once Upon a Time debuted last week as one of two new primetime series with a fairy tale twist (the other being NBC's Grimm).
In Once Upon a Time, fairy tale characters, including Snow White, Geppetto, Rumplestiltskin, and Little Red Riding Hood, have been cursed by the Evil Queen and are now trapped in the real world in a town called Storybrooke, Maine, with no memories of their past lives. Only Snow White's daughter Emma escaped the curse, and she has returned to the town 28 years later to break the curse and restore the characters to their happy endings.
In addition to the characters who appeared in the Pilot, even more fairy tale characters are slated to appear in later episodes of Once, including Cinderella, the Magic Mirror from "Snow White", Maleficent from "Sleeping Beauty", and the Witch from "Hansel and Gretel".
In honor of the fairy tale cast of Once, there is a brand new Disney Fairy Tales Quiz that you can play below. How much do you know about the Disney animated films that were inspired by classic fairy tales? Find out now!
[wpsqt name="Disney Fairy Tales Quiz" type="quiz"]