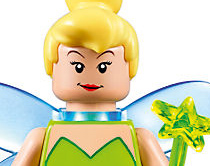 Disney fans who love LEGO® are in for a treat…and just in time for the holidays!
LEGO's partnership with Disney has produced some really fantastic sets, from the toddler-friendly, oversized DUPLO® bricks to the Disney Princess collection which features iconic sets and characters from Disney films in the popular (and girl-targeted) style of LEGO® Friends.
But this year, LEGO® has gone above and beyond to make Disney fans of all ages swoon – and clamor – for 2016's line of incredible sets.