Disney Villains Get Their Due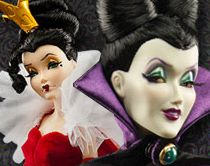 Halloween is fast approaching, and it's the one time a year that goblins, ghouls, witches, and monsters are fully embraced – and even celebrated – as part of a long, collective history of superstition and supernatural beliefs. And with these imaginary creatures comes a host of fictional and real-life villains as some of the most popular trick-or-treating costumes, sure to scare up a bag full of treats.
The Walt Disney Company may be most famous for a friendly talking mouse and fairy tale princesses, but Disney has its fair share of villains too. Largely ignored in most merchandise, these evil-doers are finally getting their due in the exclusive Disney Villains Designer Collection.
Artist Steve Thompson took on the task of transforming six of Disney's greatest female villains into designer dolls and apparel, glamorous enough to rival the princesses they so deeply loathe. Included in the collection are Maleficent (from Sleeping Beauty), Ursula (The Little Mermaid), The Evil Queen (Snow White), Cruella DeVil (101 Dalmatians), The Queen of Hearts (Alice in Wonderland), and Mother Gothel from Disney's Tangled.
The Disney Villains Designer Collection is headlined by six gorgeous, limited edition collectable dolls, each priced at $79.50. Other items in the collection that bear Thompson's designs are t-shirts, journals, tote bags, makeup compacts, scarves, notecards, mugs, and more. There are even villain-inspired nail polishes and lip glosses for wannabe-villains looking for that final, perfect touch to their Halloween ensembles.
Last year, the Disney Store released ten limited edition dolls in the Disney Princess Designer Collection. The dolls, each priced at $59.50, were announced in early August, and a new doll was released every Monday beginning August 22nd, exclusively at the Disney Store. The collection quickly sold out, and the only dolls available now are on Amazon and Ebay at a substantial markup, with most resellers asking for $200 or more per doll.
Disney Villain fans should take note: if you want to collect all six dolls, you better act fast! The Maleficent doll is already sold out, but the other five dolls are still available (as of October 26th, 2012). Visit the Disney Villains Designer Collection online at the Disney Store's official website.