A Brave New Adventure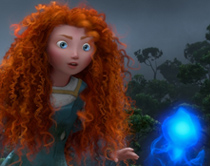 For more than sixteen years, Pixar Animation Studios has dominated 3-D animation, releasing eleven bona fide critical smash hits (and a twelfth film, Cars 2, the only Pixar feature to score a rotten tomato). Pixar's Toy Story and Cars franchises are huge moneymakers, and the studio is looking to score again with the prequel to Monsters, Inc., Monsters University, which is set for release on June 21st, 2013.
But nestled between the recent run of prequels and sequels is this year's Brave, a fairy tale set in ancient Scotland, and Pixar's first original feature since 2009's Up. Brave is also Pixar's first feature to star a female character (see Pixar's greatest female characters here) and is the studio's answer to the Disney's "Princess" franchise. In true Disney fashion, Princess Merida is a spunky redhead who defies her parents and refuses to follow tradition – sound familiar?
The two minute long trailer was released this past November and has played in theaters as a lead in to such family-friendly films as Disney's The Muppets (2011). The 10th century Scottish setting recalls DreamWorks' acclaimed animated feature, How to Train Your Dragon (2010), a fantasy film set in an ancient Viking land where a teenager befriends a dragon and saves his people from a monstrous threat. In Brave, Merida must also save her people from a fearsome beast after she inadvertently unleashes chaos in the kingdom.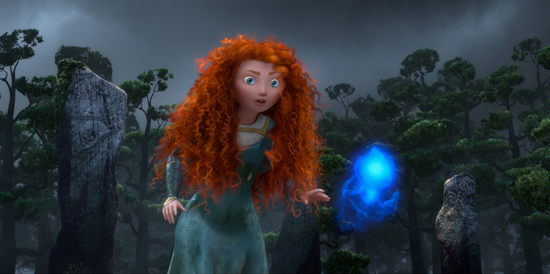 The cast of Brave features a roster of talented voice actors, including several Harry Potter alumni: Kelly Macdonald (Helena Ravenclaw), Robbie Coltrane (Rubeus Hagrid), Emma Thompson (Sybill Trelawney), and Julie Walters (Molly Weasley). Rounding out the cast is Grey's Anatomy's Dr. Hunt (Kevin McKidd), Gulliver's Travels's King of Lilliput (Billy Connolly), and The Late Late Show's host, Craig Ferguson.
Brave is scheduled for release on June 22nd, 2012, four days before my birthday. As a Pixar- and Princess-fan, I know what I'll be gifting myself: two tickets to Pixar's first-ever fairy tale feature. In a recent announcement, John Lasseter, CCO of Pixar and Walt Disney Animation Studios, revealed that Brave won't be the studio's only girl-centric film as its fifteenth feature will likely be a new film that takes place inside of a girl's mind.
Official Synopsis of Brave: Since ancient times, stories of epic battles and mystical legends have been passed through the generations across the rugged and mysterious Highlands of Scotland. In Brave, a new tale joins the lore when the courageous Merida (Kelly Macdonald) confronts tradition, destiny and the fiercest of beasts. Merida is a skilled archer and impetuous daughter of King Fergus (Billy Connolly) and Queen Elinor (Emma Thompson).

Determined to carve her own path in life, Merida defies an age-old custom sacred to the uproarious lords of the land: massive Lord MacGuffin (Kevin McKidd), surly Lord MacIntosh (Craig Ferguson) and cantankerous Lord Dingwall (Robbie Coltrane).

Merida's actions inadvertently unleash chaos and fury in the kingdom, and when she turns to an eccentric old Wise Woman (Julie Walters) for help, she is granted an ill-fated wish. The ensuing peril forces Merida to discover the meaning of true bravery in order to undo a beastly curse before it's too late.