Make Your Mark: Wait It Out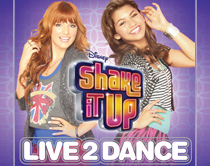 On August 6th, 2012, the five week audition period for the second annual Make Your Mark: Shake It Up Dance Off came to an end after more than 25,000 audition videos were submitted online by aspiring young dancers.
The semi-finalists won't be announced until September 14th, more than a month after the last of the auditions were uploaded. In the meantime, Make Your Mark hopefuls can watch, "like", and comment on the 25,000+ audition videos while they wait…wait…and wait for the big day.
In last year's competition, six semi-finalists were chosen to compete in a televised event where they displayed their talents and were voted on by Disney Channel viewers. Girl group AKsquared were declared the victors and later appeared as spotlight dancers on "Camp It Up", a second season episode of Disney Channel's Shake It Up.
This year, the producers will select up to ten semi-finalist dance acts who will compete for viewers' votes in a televised dance off this October. 10 versus 6 – that's 67% more finalists for 67% more fierce competition and 167% more extraordinary dance moves.
While waiting to find out which dancers are the lucky ten, check out Zendaya and Bella Thorne's new music video, Fashion Is My Kryptonite (guest starring Cat Deeley, host of So You Think You Can Dance), which had its Disney Channel world premiere on August 3rd. The song will be featured in the Shake It Up TV special, Shake It Up: Made In Japan, which airs Friday, August 17th at 8:00pm on the Disney Channel.
Fashion Is My Kryptonite will appear on the new Walt Disney Records Shake It Up: Live 2 Dance Deluxe CD, available exclusively at Walmart and Sam's Club on August 14th. The downloadable digital EP debuts a week later on August 21st.