Disney Art on Pinterest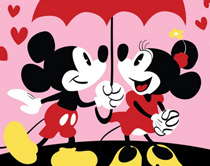 For those of us who grew up with Disney in our childhoods, all it takes is a glance – a glass slipper, a honey pot, the looping cursive of the Disney "D", or the silhouette of Mickey's ears – to bring memories of Disney films, raggedy princess dresses, and vacations to the "happiest place on earth" flooding back.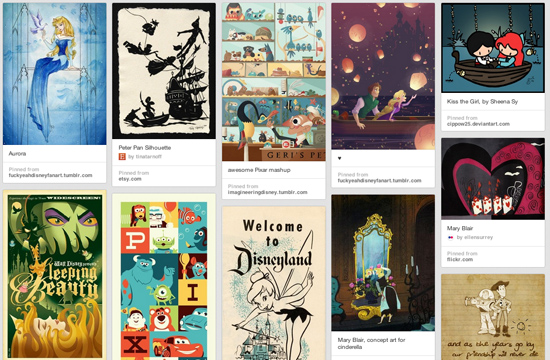 For almost 90 years and more than 50 animated features, the Walt Disney Company has been working its magic on generations of children, embedding its iconic imagery and beloved characters deep into the hearts and minds of millions of life-long fans.
While the company has had its ups and downs, from the 1937 premiere of Snow White and the Seven Dwarfs (↑) through Walt Disney's death (↓), the Renaissance of the 90s (↑) and the era of Michael Eisner and direct-to-video sequels (↓), Disney has maintained its cultural relevance – while dramatically increasing its bottom line – as the largest media conglomerate in the world.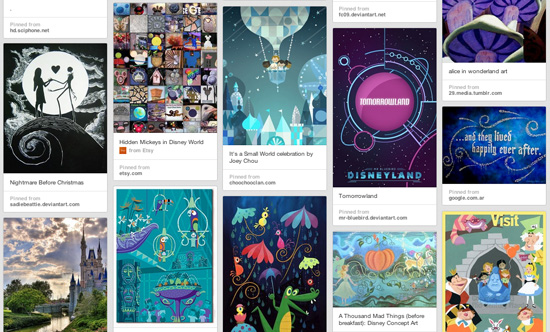 Perhaps the best way to judge a company's success is by the devotion of its consumer base, and Disney consumers are the most enthusiastic, dreamy, artistic and joy-filled fanbase of all. And what better way to share your love of Disney than by pinning your favorite photographs, art, quotations and screenshots to a Pinterest board?
There are hundreds of Disney-inspired boards on Pinterest – a quick search for "Disney" or the title of your favorite movie will launch a thousand pins (and hours of pinning fun) – and I've collected my favorite images: mostly fan art, vintage posters and enchanting photographs of the Disney castles, on the Blogging Disney Pinterest board. Follow me for some of the best Disney pictures on the web!