The Sad Life of Timothy Green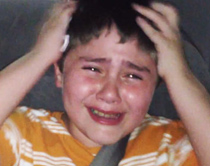 Disney's latest family film, The Odd Life of Timothy Green, (currently in theaters) has gained notoriety on the web, thanks to a viral video that has been viewed more than 2.7 million times in two weeks (and even got a mention in TMZ and other entertainment blogs).
The Odd Life of Timothy Green tells the story of a childless couple whose lives are charmed when a mysterious little boy materializes in their garden. The film has been panned by critics (38% on Rotten Tomatoes) who have called it "schmaltzy", "manufactured" and "shellacked with sticky sentimentality".
SPOILER ALERT!!!
What the professional critics haven't called Timothy Green is "supeeeer saaaad!!!" while crying hysterically in the car long after the movie is over. For an impassioned review of the film from two young boys who saw it (and were reduced to tears while their parents can hardly surpress their laughter from the front seat), click the link below. WARNING! The end of the film is spoiled ten seconds into the video.
Reaction to The Odd Life of Timothy Green on YouTube
The Odd Life of Timothy Green is hardly the first Disney film to be billed as the "feel good movie of the season", only to shock and devastate the audience when the story doesn't end quite so happily-ever-after. Like when Bambi's mother dies. Or Simba's father. Or Old Yeller. In Up, Carl's wife Ellie dies after the most heartbreaking 15 minutes in Disney/Pixar history – unless you count when the toys are almost incinerated and then given away in Toy Story 3.
There's a lot of abandonment, betrayal, and death in Disney films – and more orphans than the cast of "Annie". There's so much sadness, in fact, that it's hard to choose an answer to the poll "What's the Saddest Disney Film Ever?" You decide!
Loading ...
Are there any other films that deserve a nomination?