Make Your Mark 2012: FAQ!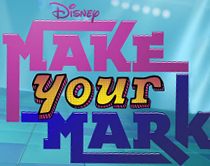 Let the dancing begin! On June 29th, 2012, the Make Your Mark: Shake It Up Dance Off will begin accepting online video auditions for its 2012 competition.
Last year's Make Your Mark inspired thousands of aspiring dancers to upload more than 28,000 audition videos. Disney Channel fans invited to watch the videos online and vote for their favorite dancers. Six semi-finalists were selected to compete in a televised event where the competitors were watched – and voted for – by millions. The four talented dancers of AKsquared were declared the winners and were featured as spotlight dancers on an episode of Disney Channel's Shake It Up.
Make Your Mark: Shake It Up Dance Off – 2012 FAQ

Please visit the official Make Your Mark website for more information. Be sure to read the competition's DOs and DON'Ts before submitting an audition video. Parents and kids who want to read the Audition Procedures, here they are!

When can I submit my audition video?
You can submit your 45-second audition video beginning on JUNE 29th, 2012. The last day that videos will be accepted is AUGUST 6th, 2012. So you have FIVE WEEKS to submit!

I'm 8 years old. Can I make a video?
Audition videos will be accepted from any dancers who are between 8 and 16 years old, with your parent's permission. So, YES! If you're 8 years old, you can submit an audition. If you're 16, you can submit one too! Just make sure your parents say it's okay.

Can I dance to any music that I want?
Unfortunately, NO. The only songs that you can dance to are the official 30-second Shake It Up songs featured on the Make Your Mark website. They are "TTYLXOX" by Bella Thorne, "Something to Dance For" by Zendaya, "Whodunit" by Adam Hicks and CoCo Jones, and "Don't Push Me" by CoCo Jones. If your video features any other music, it will NOT be accepted.

Click here to download the official songs! The songs are all 30-seconds long and are in an mp3 format which should play on iTunes, Windows Media Player, and other audio players.

I don't want to audition by myself. Can I dance with my friends?
Audition videos will be accepted that feature one dancer as a solo performer or up to FIVE dancers as a team. If you don't want to dance alone, you can dance with one, two, three, or four of your friends. But NO MORE THAN FIVE dancers total! All dancers must meet the age requirements (no younger than 8, and no older than 16) and have permission from their parents.

How long should my video be?
Your audition video should be between 30- and 45-seconds long. The songs are 30 seconds long, so you can use the other 15 seconds to introduce yourself and the other dancers on your team. Do NOT make a video that is more than 45 seconds long! Audition videos that are too long will not be accepted.

What can I use to record my audition video?
Whatever you have that can shoot video! You can use a video camera, web camera, or phone. Make sure you use plenty of lighting and focus on the dancing – you won't win if no one can see your moves!

How many dancers will be chosen as semi-finalists?
This year, Disney Channel Producers will be selecting UP TO 10 diverse dancers and dance groups. They may select fewer than 10 dance acts.

I live in Canada. Can I submit an audition video?
Unfortunately, NO. To participate in Make Your Mark, you must be a legal resident and physically residing in one of the 50 states of America or the District of Columbia.

I have a lot of dance moves to show off. Can I submit more than one video?
YES! You can submit up to 20 (twenty!) audition videos, but each video must be original and feature unique choreography. Don't upload the same video more than once, and don't repeat all of the same dance moves.

OTHER RULES:

1.) If you want to introduce yourself, DO NOT say your last name, your home town, your address, your phone number, or the name of your school. Protect your privacy and say your first name(s) and home state ONLY!

2.) DO NOT wear clothing that has any logos, and make sure your audition video doesn't feature any brand names or images that you didn't make yourself.

3.) DON'T use fancy editing or camera angles that distract from the dancing. Let the talent speak for itself! Press record, and show off your moves.