Walt Disney Launches 2012 Films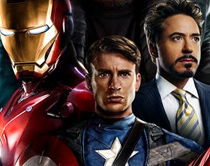 Walt Disney Pictures released ten feature films in 2011, including three foreign films and the re-release of the animated smash The Lion King (1994) in 3D. The films were a mixed bag of big budget spectacles and nostalgic charmers. Mars Needs Moms bombed, On Stranger Tides was critically panned (but grossed more than $1 billion worldwide), and The Muppets and Winnie the Pooh were two of the most acclaimed films of the year.
Walt Disney Pictures
2011 Films

Release Date

Domestic Gross

Worldwide Gross

Tomato Rating

Anaganaga O-Dheerudu
(Once Upon a Warrior)

January 21

–

–

–

Hexe Lilli: Die reise nach Mandolan
(Lilly the Witch: The Dragon and the Magic Book)

February 17

–

–

–

Mars Needs Moms

March 11

$21,392,758

$38,992,758

37%

Zokkomon

April 22

–

–

–

Prom

April 29

$10,130,219

$10,130,219

33%

Pirates of the Caribbean: On Stranger Tides

May 20

$241,071,802

$1,043,871,802

33%

Cars 2

June 24

$191,452,396

$559,852,396

39%

Winnie the Pooh

July 15

$26,692,846

$33,152,846

91%

The Lion King (3D)

September 16

$94,240,635

$94,240,635

89%

The Muppets

November 23

$88,543,000

$158,343,000

96%
2011 was a big year for Walt Disney Pictures, but the studio has even more planned for this year when Pixar releases its first fairy tale film, two more animated classics return to the big screen, and Disney takes a big gamble on the heavily hyped sci-fi epic John Carter.
John Carter made its debut on March 9th, 2012 to a disappointing $30.6 million domestic opening (plus another $70.6 million worldwide). The film received middling critical reviews (49% on Rotten Tomatoes) and a second place opening behind The Lorax, despite a major marketing campaign which included a commercial that aired during Super Bowl XLVI where 30-second ads cost an average of $3.5 million.
Rotten Tomatoes critic consensus:
"While John Carter looks terrific and delivers its share of pulpy thrills, it also suffers from uneven pacing and occasionally incomprehensible plotting and characterization."
After a streak of eleven animated films that were critical and financial successes, Pixar released its first poorly reviewed feature in 2011 when Cars 2 was critically panned. Pixar's upcoming film, Brave, is scheduled for release on June 22nd, 2012 and it will be Pixar's chance to reclaim its prominence as an unstoppable animation powerhouse. The film is a twofer for Pixar as the studio's first fairy tale film AND its first film starring a female protagonist, the feisty and free-spirited Princess Merida.
After The Lion King in 3D grossed $94 million domestically and 2012's Beauty and the Beast in 3D earned another $47,265,159 (and counting), Disney is set to re-release Pixar's Finding Nemo in 3D on September 14th, 2012. 2013 will see additional animated re-releases as Disney cashes in (again) on some of the studio's best films.
Disney's biggest 2012 hit is likely to be the highly anticipated ensemble superhero film, The Avengers, which the Walt Disney Company owns since its purchase of Marvel Entertainment in December 2009. The Avengers was written and directed by Joss Whedon (of Buffy the Vampire Slayer fame) and features an all-star cast of Marvel superheros who recently appeared in a series of origin films, including Iron Man (Robert Downey, Jr.), The Incredible Hulk (Mark Ruffalo), Captain America (Chris Evans), Thor (Chris Hemsworth), Black Widow (Scarlett Johansson), and Hawkeye (Jeremy Renner).
Joss Whedon's last feature film, Serenity, was critically acclaimed but grossed only $38.8 million worldwide. Disney is relying on the self-professed comic book geek to lead The Avengers to a much bigger box office haul. The future of the Marvel superhero franchise depends on it.