Disney-Pixar Goes Back to School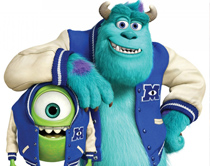 Pixar Animation Studios may have aced its early film efforts with such beloved standouts as Finding Nemo, Ratatouille and all three Toy Story movies, but since the start of the twenty-tens, Pixar's cinematic efforts have floundered, earning middling grades from critics and audiences alike.
2011's Cars 2 received Pixar's worst-ever reviews with a 39% rotten consensus on Rotten Tomatoes, less than half the score of the first Cars film (at 74%). 2012's Brave performed better at 78%, but many critics felt the studio's first girl-centric adventure was missing much of the charm and wit that defined early Pixar films.
Pixar's latest film, Monsters University, is its first prequel and the second installment in the Monsters, Inc. franchise. Best monster pals James P. Sullivan (John Goodman) and Mike Wazowski (Billy Crystal) return to the big screen as university student rivals more than a decade after they scared up $562 million at the 2001-2002 worldwide box office as working stiffs who rescue a little girl named "Boo".
Monsters University has a 78% fresh rating from 146 reviews on Rotten Tomatoes, matching Academy Award winner Brave's critical appeal, but still a far cry from Toy Story's 100%. On a typical academic grading scale, the film would have received a C, but how does that compare to Pixar's other films?
Grading Pixar's Films

Year
Film
RT Score
Grade
1995
Toy Story
100%
A+
1998
A Bug's Life
92%
A-
1999
Toy Story 2
100%
A+
2001
Monsters, Inc.
96%
A
2003
Finding Nemo
99%
A+
2004
The Incredibles
97%
A+
2006
Cars
74%
C
2007
Ratatouille
96%
A
2008
Wall-E
96%
A
2009
Up
98%
A+
2010
Toy Story 3
99%
A+
2011
Cars 2
38%
F
2012
Brave
78%
C+
2013
Monsters University
78%
C+
Pixar may be in a C-student slump right now, but the studio has plenty of time to work its way back to the head of the class. According to Wikipedia, Pixar has four confirmed films in production right now: The Good Dinosaur (due May 30th, 2014), Inside Out, a film that takes place in the mind of a girl (due June 19th, 2015), Finding Dory, the highly anticipated sequel to Finding Nemo (due November 25th, 2015), and a film about Día de los Muertos, due June 17th, 2016. Any one – or all four – of these films could propel Pixar back to the #1 spot as the world's premiere animation studio.
The World of Monsters University:
With the Create a Monster online game, you can create, design and name your very own Monsters U student! Start by choosing the monster's body and then spruce him/her up by adding colorful fur or scales, hair, horns, glasses, wings, and Monsters U swag. Then you can name your monster, print the student ID and share it with your social networks.
From now through August 31st, 2013, legal residents of the United States, Puerto Rico and Canada (sans Quebec – aged 18 and up) can enter The Monstrous Summer Sweepstakes Presented by Disney Parks to win a trip for four to your choice of Disneyland or Disney World Resorts. You can earn additional sweepstakes entries by signing up online for a fraternity/sorority and "training" for the Monsters University "Scare Games" by playing online games inspired by the Haunted Mansion, the Twilight Zone Tower of Terror and the New Fantasyland.
iPhone and iPad users can also download the new Monsters University Storybook Deluxe App (currently priced at $6.99) to immerse themselves in the world of the movie. The app features an interactive read-along storybook, clips from the film, and a collectable "Scare Card" game featuring pictures of your favorite monster Scarers, along with their scaring stats!