Google Celebrates Artist Mary Blair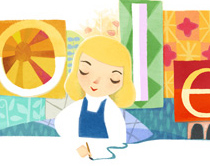 In 2009, I visited the New Orleans Museum of Art during a wonderful special exhibit: Dreams Come True: Art of the Classic Fairy Tales from the Walt Disney Studio. The exhibit was timed to coincide with the theatrical release of Disney's 49th animated feature, The Princess and the Frog (2009), which is set in 1920s New Orleans.
The exhibit featured concept art, designs, and animation cels from Disney's The Three Little Pigs (1933), Snow White and the Seventh Dwarfs (1937), The Ugly Duckling (1939), Fun and Fancy Free (1947), Cinderella (1950), Sleeping Beauty (1959), The Little Mermaid (1989), Beauty and the Beast (1991), and The Princess and the Frog (2009). I thoroughly enjoyed the exhibit, and I credit it as my first introduction to the wonderfully talented art director, color stylist, and designer Mary Blair.
Mary Blair (1911-1978) was a prolific artist who worked with Disney over three decades, producing concept art for such films as Cinderella (1950), Alice in Wonderland (1951), and Peter Pan (1953), for which she was credited as a "color stylist". Her other film work included Saludos Amigos (1942), The Three Caballeros (1944), Song of the South (1946), and Melody Time (1948).
Mary Blair's art can also be seen in the Disney theme parks where she did the character design and color styling for it's a small world, which recently celebrated its 45th anniversary, and the fiesta scene in El Rio del Tiempo/Gran Fiesta Tour Starring the Three Caballeros at Epcot's Mexico Pavilion.

In the early years of Walt Disney Animation Studios, the artist and animator positions were largely dominated by men, and women artists were often discriminated against and relegated to lesser positions in the Ink and Paint Department. Mary Blair was one of the few women to rise to prominence at Disney in the 1940s and 1950s and is probably the best known Disney female artist, although there were others at work at the time, including animator Retta Scott who worked on Disney animated features in the 1940s, and Retta Davidson who worked as an ink and painter in the 1940s and was invited back to animate for the 1980s productions: The Fox and the Hound (1981), The Black Cauldron (1985), and The Great Mouse Detective (1986).
On October 21st, 2011 Google celebrated the 100th anniversary of Mary Blair's birth with a Google Doodle that temporarily replaced the traditional Google search engine logo. The doodle was inspired by Blair's whimsical and colorful style, a style which continues to inspire artists more than half a century after she retired from Walt Disney Animation Studios.
Below are some of Mary Blair's concept drawings for Cinderella (1950). All images are copyright Disney.