Winnie the Pooh Comes to Life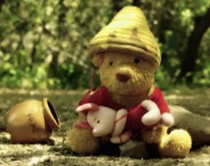 If you thought Winnie the Pooh couldn't get any cuter than the original illustrations by E. H. Shepard or the classic Disney animated films, wait till you see the playful shorts that bring plushie Winnie the Pooh and friends magically to life.
Not long after the grand opening of the flagship Disney Store in Times Square, NYC, I found myself standing in the middle of the busy pedestrian plaza, completely enthralled by the cutest short video ever made – ever – as it played on the gigantic digital screen outside the store.
I Googled the video and discovered that it is one in a series of "Smackerels" shorts featuring the silly old bear, Eeyore, Tigger, Piglet, Kanga and Roo coming magically to life in the Hundred Acre Woods.
Disney had this to say about the Smackerel shorts:

"Realizing A A Milnes enduring vision of a little boy's cuddly toys coming to life in an English wood, Smackerels are visual treats presenting Pooh and friends in a magical new way."
The Winnie the Pooh Smackerels are available to view on DisneyLiving's Youtube Channel and in the embedded links below. Prepare to be charmed.
"It's So Much Friendlier With Two"
"Tiggers Can Do Everything!"
"You Never Have Accidents Until You're Having Them"
"Generally Regarded As One of the Fiercer Animals"
"Nobody Can Be Uncheered with a Balloon"
"We All Have Our Little Ways"
If these adorable videos inspire you to make your own (or if you just want to snuggle with your very own Pooh Bear), visit the Disney Store website to buy the plushies featured in the shorts. These "Movie Edition" plushies are priced between $12.50 (Piglet) and $29.50 (Kanga and Roo).