Hulk, Smash! Box Office Records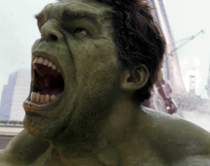 2012 has been a great year for Joss Whedon. Best known for creating the cult smash hits Buffy the Vampire Slayer, Firefly, and Dr. Horrible's Sing-a-long Blog, the writer/director has had two critically acclaimed films hit theaters in 2012.
Whedon's first film of the year, The Cabin in the Woods (co-written and produced by Whedon and directed by Drew Goddard), was filmed in 2009 and then shelved for two years when MGM Studios filed for bankruptcy. The genre-bending satirical horror film was eventually bought by Lions Gate in 2011 and ultimately released in April 2012. The film (which stars Thor's Chris Hemsworth) has grossed more than $60 million internationally and received a 90% certified fresh rating from RottenTomatoes critics who called it original, inventive, and "the canniest genre deconstruction since Scream".
Three weeks later, Marvel's The Avengers (written and directed by Joss Whedon) hit theaters and proceeded to demolish almost every box office record ever set in the fastest rise to a $1 billion international gross on record. The Avengers stars six of Marvel's most popular superheroes: Iron Man, Captain America, Thor (Chris Hemsworth again!), The Incredible Hulk, Black Widow, and Hawkeye. Iron Man, Captain America, Thor, and the Incredible Hulk are the titular stars of their own superhero film franchises, and with wild success of The Avengers, it is likely we haven't seen the last of the lesser-known, but still seductive Black Widow and sharp-shooting archer, Hawkeye.
Domestic Box Office Records Currently Held by Marvel's The Avengers:
(Statistics from Box Office Mojo)

#1 Opening Weekend ($207,438,708)
Top 10-Day Domestic Gross ($373,071,647)
#1 Wide Release Theater Average ($47,698 per theater)
Fastest to 100 Million (2 days)
Fastest to 200 Million (3 days)
Fastest to 300 Million (9 days)
Fastest to 400 Million (14 days)
Fastest to 500 Million (23 days)
At more than $1.363 billion dollars grossed so far, The Avengers is currently ranked #3 in the All Time Worldwide Box Office (non-adjusted), behind Titanic ($2.185 billion) and Avatar ($2.782 billion). The Avengers has out-grossed every other superhero film as well as every film in the wildly successful Harry Potter, Pirates of the Caribbean, Lord of the Rings, Shrek, Transformers, and Toy Story franchises.
The Walt Disney Company purchased Marvel Studios in 2009, and the recent series of successful superhero films are definitely paying off for Disney which has already started shooting Iron Man 3 starring Iron Man 2 stars Robert Downey, Jr., Gwyneth Paltrow, and Don Cheadle. Iron Man 3 and Thor 2 are set for release in 2013, while Captain America 2 will premiere in 2014.
There's nothing on the record for The Avengers 2, but it's unlikely that Disney and Marvel will pass up the opportunity for another record-breaking superhero ensemble film. With the gifted Joss Whedon at the helm and a cast of A-list stars, The Avengers sequel will be as unstoppable as the first. Hulk, smash away! Avatar 2, you have been warned.
With a few clicks of a mouse, Disney's Marvel Comic Creator can be used to publish a multi-page comic book starring superheroes and villains from The Avengers. Comic writers can customize almost everything in their comic using hundreds of layouts, backgrounds, speech bubbles, and actions. The backgrounds and characters can be scaled and rotated as needed, and a drawing tool and text editor ensure that the creations are limited only by the writers' imaginations. Start making your comic now!