Create Your Own Marvel Comic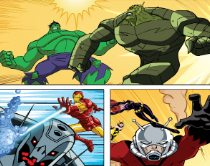 In the fall of 2009, the Walt Disney Company made a deal to acquire Marvel Entertainment for $4.24 billion, a purchase which transferred control of Marvel's comic book and movie library to Disney, along with a library of 5,000 characters, including Spider-Man, the X-Men, Iron Man, Thor, the Fantastic Four, the Hulk, Daredevil, and Captain America – all of whom have inspired major motion pictures in recent years.
As of now, Disney has held off on incorporating the Marvel heroes into any of its theme parks, although the company is free to do so everywhere except for Walt Disney World in Florida, due to Marvel's existing contract with Disney competitor Universal's Universal Studios and Islands of Adventure theme parks.
The world's first Marvel-only theme park, The Marvel Superheroes Theme Park, is set to open in Dubailand, Dubai in 2012. For more concept art of the park, visit Disneyandmore.blogspot.com. The theme park began construction in 2007, and if it opens as scheduled (despite delays due to Dubai's failing real estate market), it will be a preview to more Marvel attractions in Disney's future – possibly even a new superheroes theme park at Euro Disney.
In other Marvel news, Disney recently launched an online Comic Creator to promote the Disney XD series, Marvel's The Avengers: Earth's Mightiest Heroes.
With a few clicks of a mouse, the comic creator can be used to publish a multi-page comic book starring superheroes and villains from The Avengers. Comic writers can customize almost everything in their comic using hundreds of layouts, backgrounds, speech bubbles, and actions. The backgrounds and characters can be scaled and rotated as needed, and a drawing tool and text editor ensure that the creations are limited only by the writers' imaginations.
Comics can be shared with others, and this feature has inspired many writers to end their comics with the dreaded "To Be Continued", promising to finish their story arcs only if readers rate them 5 stars. It's an extortion racket that would make any comic book villain proud, and a few comics – such as the entertaining Lost in Time series – may even be worth it.
If Marvel superheroes aren't your thing, here's a few other Disney-themed creators to try:

Mickey & Friends Mashup: Scribble your way to fun with Mickey Mouse as you create your very own wallpapers, collages, and more!

Lego Pirates: Photo Mashup: Set sail for adventure on the Seven Seas with Captain Jack Sparrow, Lego style! Create your own pirate pictures, wallpaper, and more!

Digital Painter: Fairies Edition: Experience the wonder and magic of Tinker Bell's world when you create your very own Fairy artwork and take flight into creativity.

Flip Book v. 1.0: Draw and animate your very own flip book!