2012 Epcot Food and Wine Festival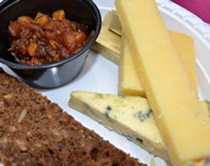 When it comes to thrilling attractions, Epcot might not rank highly on the Walt Disney World theme park scale (Test Track and Soarin' are standout exceptions), but what Epcot lacks in rides, it makes up for in sheer square footage and seasonal events that draw thousands of visitors every year.
For more than six weeks in the fall of 2012, Epcot hosted its 17th Annual Epcot International Food and Wine Festival which featured mouthwatering edibles and thirst-quenching drinkables from more than 20 countries worldwide.
During the 46 day festival, park visitors were encouraged to "Taste Your Way Around the World", by visiting Epcot's expansive World Showcase International Marketplace and sampling delicacies from around the world. 2012's Marketplace featured booths dedicated to the cuisines of Argentina, Australia, Belgium, Canada, the Caribbean, China, France, Germany, Greece, Hawaii, Ireland, Italy, Japan, Mexico, Morocco, New Zealand, Poland, Scandinavia, Singapore, South Africa and South Korea.
Each international booth featured a unique menu of food and drink samplers priced between $4 and $8 ($3-$6 for beverages). Additional markets were dedicated to Craft Beers, Desserts & Champagne, Cheese, Brewer's Collection, Fife & Drum and Hops & Barley. 2012's festival goers were a thirsty bunch, attending 300 beer and wine seminars held over the course of the festival, and drinking an estimated 33,000 bottles of wine and champagne and 360,000 servings of beer.
Florida locals (and Epcot Food and Wine Festival fans) Samantha, Jessica and Tom attended the 2012 festival and recorded their impressions of various samplers. They had this to say about some of their favorite international dishes:
AUSTRALIA:
"I have the Grilled Lamb Chop with Mint Pesto and Potato Crunchies which basically look like crunched up potato chips on top. The lamb is good, it's not salty this year like last year. The potato chips add a crunch which is pretty good. The mint has a very strong pesto-y flavor with it, and it's overall very good. I actually like this a lot better than the last two years I've had the lamb."
CANADA:
"The ever-so famous Canadian Cheddar Cheese Soup: the cheddar cheese soup is as good as every year. If you've had it before, it's worth getting again. Same recipe; it's wonderful. And if you've never had it before, this is one of the best foods, consistently, every year at Epcot's Food and Wine Festival."
CARIBBEAN:
"I am trying out the Bacardi Torched Cherry Limeade. I have had the toasted cherry drink in previous years. And unfortunately they didn't have the normal cherry this year, so here I go. (sips) Mmm. It has a good tart to it. You can definitely get the lime. It actually tastes like fresh lime juice – I actually felt like I had a little pulp in there. The cherry comes up. I like it; it tastes like SweetTarts."
IRELAND:
"We're in Ireland; we've got Irish Aged Cheddar, Dubliner and Cashel Blue Cheese with Apple Chutney and Brown Bread. The blue cheese is very mild. I like the cheddar; it's nice and dry." (Jessica didn't like the Chutney, but Tom found it tasty, and they both liked the Irish butter)
MEXICO:
"I just got a favorite of mine from last year. This is the Tacos de Camaron which is a shrimp taco that features a lot of cabbage and a chipotle lime mayo. Last year, this was delicious. We actually came back twice for this last year. (Bites in) Mmm. This is good. It's got a lot of good bite to it from that chipotle mayo. Just as good as last year's."
SOUTH KOREA:
"I've got Mung Bean Pancake with Shrimp and Kimchi Sauce. It looks like a pancake. I wasn't sure if it was going to be sweet or savory; they told me savory. It's got actual bits of shrimp in the sauce over it. The sauce is really spicy. The shrimp's okay. I'm not sure what mung bean is supposed to taste like. It's weird, because it's not really like what you'd think a pancake batter would be. It's a different color, but it's also a different texture. It's more grainy. I'm not a huge fan of it, but I'm not a huge fan of spicy."
Epcot's 18th International Food and Wine Festival is scheduled to run from September 27th through November 11th, 2013. First-time gourmands who are worried about packing on the pounds will be relieved to know that Epcot spans 300 acres and is more than twice the size of the Magic Kingdom. Wear comfortable shoes, walk the park a few times, and enjoy as much food and wine as you'd like. You can always take the monorail home. 🙂