Teen Beach Movie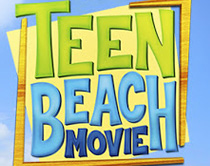 The brilliance of Disney Channel's newest original movie is evident in its guileless title: it's a Teen Beach Movie. Channel surfers (and actual surfers!) will know exactly what they're getting into when they flip to the Disney Channel this Friday night, July 19th.
Formerly titled Teen Beach Musical, Teen Beach Movie is a throwback to the 1960s genre of "beach party" movies, first popularized by the Gidget film series (and TV spinoff) which starred Sandra Dee as a teenage surfer girl in 1959's Gidget. The 1963 Beach Party movie (starring Frankie Avalon and former Mouseketeer Annette Funicello) launched a series of films which debuted between 1963 and 1966, and the genre quickly spun off into dozens of other films by competing studios looking to take advantage of the explosion in popularity.
These "Beach Party" films were usually shot on California beaches (often during winter) and frequently involved summer romances, surfer vs. biker subplots, fun, sun, original songs and contemporary musical stars (Elvis Presley, Stevie Wonder, The Supremes and, of course, The Beach Boys, all made appearances). Unfortunately, the genre's popularity receded as fast as it came, and by 1967, due to rising costs and diminishing returns, film production ceased.
The "Beach Party" genre may have been short-lived, but its impact on popular culture has extended far beyond the 1960s. And now, Disney Channel's Teen Beach Movie is ready to introduce the genre to a legion of High School Musical fans who have already proven that kitschy teen musicals with catchy songs and guilt-free romances are right up their alley.
Teen Beach Movie is taking a Pleasantville approach to bridging the 60-year time gap by having a pair of contemporary teens (Brady and McKenzie, played by Ross Lynch and Maia Mitchell) magically transported to an alternate dimension where Brady's favorite 1960s beach movie, the fictional Wet Side Story (haha, get it?), takes places.
Of course, just as Pleasantville's time-traveling siblings have trouble fitting into the black-and-white 1950s, Brady and McKenzie discover that they have disrupted the Wet Side Story plot continuum by having the two leads – a surfer dude and a biker babe – fall in love with them, instead of each other.
Hijinks ensue and lessons are learned, and it's all wrapped up neatly in the end with a hit soundtrack and newly christened Disney Channel stars – or so Disney Channel hopes. The hype machine has been hard at work promoting the film and its stars, although the High School Musical trilogy is a tough act to follow.
High School Musical may have culminated in a theater-released feature film and a concert tour, but the franchise's influence extends far beyond the original trilogy. Not only did HSM make stars of Zac Efron and Vanessa Hudgens (recently seen in The Lucky One and Spring Breakers, respectively), the trilogy spun off into a reality series, a book series, several video games, international movie editions, an ice show, and, of course, a stage musical, virtually guaranteeing that high schoolers around the world will be staring in local renditions of High School Musical for decades to come.
Even a fraction of High School Musical's success would likely please Teen Beach Movie's producers and guarantee a made-for-TV sequel, but can the Disney Channel manufacture hit franchises the way it manufactures its tween stars? Or was High School Musical an anomaly – a monster hit whose successes can't be recreated, no matter how hard Disney Channel tries?
While gearing for the movie premiere, play Disney's new Bikers vs. Surfers puzzle game, an icon-matching challenge similar to Bejeweled. And if you love the movie's music, be sure to place an order on iTunes for the 15 song Teen Beach Movie soundtrack, currently priced at $9.99 for the digital CD or $1.29 per song.