2012: A Big Year for Disney Animation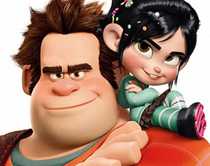 Three days ago, Disney Animation Studio's 52nd feature, Wreck-It Ralph, debuted in theaters at the top of the domestic box office, earning $49 million domestically and a total of $61 million worldwide. The film was released only four weeks after Disney's last animated feature, the stop-motion Frankenweenie from director Tim Burton.
Even since Snow White and the Seven Dwarfs (1937) defied expectations with its wildly successful theatrical debut, critics have predicted the demise of Disney animated films. Walt Disney Animation Studios has suffered setbacks several times over its 80 year history, from suspended animation during World War II, to the studio's decline in quality and popularity in the 1970s, to the massive layoff of animation staff in 2000.
But time and time again, the Walt Disney Company has overcome these obstacles, with animated film production re-surging in the 1950s and again in the Disney Renaissance of the '90s, and then again with the partnership and later purchase of Pixar Animation Studios in the 2000s. And if this year's release of four commercially successful and critically acclaimed animated features, the Walt Disney Company can look forward to a long and prosperous future in animation, regardless of the medium.
The Walt Disney Company's 2012 Animated Films
(Box Office Numbers as of 11/5/12, Boxofficemojo.com)

The Secret World of Arrietty

"The Secret World of Arrietty" uncovers a world hidden beneath the floorboards where little people called Borrowers live quietly among us. But when tenacious and tiny Arrietty is discovered by Shawn, a human boy, their secret and forbidden friendship blossoms into an extraordinary adventure.

Produced by: Studio Ghibli
Release Date: February 17, 2012
RT Score: 94% Fresh
Worldwide Box Office: $145,570,827

Brave

"Brave" follows the heroic journey of Merida, a skilled archer and headstrong daughter of King Fergus and Queen Elinor. Determined to carve her own path in life, Merida defies an age-old custom, inadvertently unleashing chaos and fury in the kingdom, and when she turns to an eccentric Witch for help, she is granted an ill-fated wish.

Produced by: Pixar Animation Studios
Release Date: June 22nd, 2012
RT Score: 78% Fresh
Worldwide Box Office: $532,365,000

Frankenweenie

In "Frankenweenie" after unexpectedly losing his beloved dog Sparky, young Victor harnesses the power of science to bring his best friend back to life-with just a few minor adjustments. He tries to hide his home-sewn creation, but when Sparky gets out, Victor's fellow students, teachers and the entire town all learn that getting a new "leash on life" can be monstrous.

Produced by: Tim Burton Productions
Release Date: October 5th, 2012
RT Score: 89% Fresh
Worldwide Box Office: $58,106,000 (as of 11/5/12)

Wreck-It Ralph

Ralph is tired of being overshadowed by Fix-It Felix, the "good guy" star of their game "Wreck-It Ralph" who always gets to save the day. When Ralph finally decides he's tired of playing the bad guy, he takes matters into his own massive hands and sets off on a game-hopping journey through generations of video games to prove he's got what it takes to be a hero.

Produced by: Walt Disney Animation Studios
Release Date: November 2nd, 2012
RT Score: 84% Fresh
Worldwide Box Office: $61,100,000 (as of 11/5/12)