Disney's New Fantasyland Enchants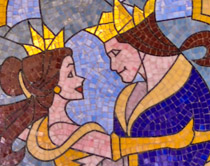 For more than 40 years, Cinderella's Castle has stood tall as the Magic Kingdom's most indisputably iconic landmark. At 190 feet high (and cleverly designed to look even taller), the castle has dazzled millions of visitors with its polished stone walls and 27 turrets which strike an elegant silhouette against the expansive Florida sky.
The castle's central location – where Main Street ends and the Magic Kingdom's six lands converge – has guaranteed that Cinderella and her Prince reign as the supreme royals of Walt Disney's Florida kingdom. Of course, they've never had any real competition. Until now.
On December 6th, 2012, the long-awaited New Fantasyland celebrated the grand opening of its first expansion. Among the attractions in New Fantasyland's Enchanted Forest is a glamorous second castle, home of Belle, the Beast and the Be Our Guest Restaurant.
The Beast's Castle may not share the prime real estate that Cinderella's Castle commands, but the hill-set castle has its own charms, overlooking the quaint village where Maurice's Cottage and Gaston's Tavern reside.
Of course, Belle isn't the only new princess in town, and the Magic Kingdom's third (and final?) castle is right next door.
Prince Eric's waterfront chateau is home to the winsome Ariel who also frequents the nearby Ariel's Grotto where she keeps her treasures and once dreamed of being human. Ariel's Grotto doubles as the site of Under the Sea – Journey of the Little Mermaid, a new dark ride that tells the story of Ariel's transformation from mermaid to human.
Outside of the Enchanted Forest, New Fantasyland's premiere attraction is the Storybook Circus where the popular Dumbo the Flying Elephant ride has relocated along with the Great Goofini's Barnstormer coaster, Casey Jr.'s Splash 'N' Soak Station and Pete's Silly Sideshow.
New Fantasyland is pretty spectacular now, but there's even more magic on the way. Fantasyland's second expansion is due in 2014 and will feature Princess Fairytale Hall (home to even more Disney princesses) and the Seven Dwarfs Mine Train, a thrilling adventure ride through a diamond mine.
When the construction is complete and New Fantasyland 2.0 debuts, the old Fantasyland will have doubled in size from 10 acres to more than 20. Now, that's real Disney magic at work, guaranteed to enchant, amaze, and create long-lasting memories for fans of the old Fantasyland and first time visitors to Disney's most magical Magic Kingdom.
A Bonus for Reality TV Fans:

New Real Estate in New Fantasyland: HGTV's House Hunters International help Belle and the Beast find a castle in New Fantasyland that's just right for them.

And for princess fans with a more adult sense of humor:

The Real Housewives of Disney: The cast of SNL and guest host Lindsay Lohan spoof the Disney Princesses in this PG-13 parody of the Real Housewives reality series.