Walt Disney World 40th Anniversary Quiz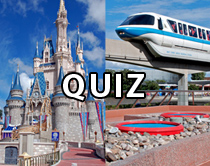 Walt Disney World recently celebrated its 40th anniversary, and every Disney milestone deserves a Disney quiz! Test your Walt Disney World knowledge with this 15 question quiz based on the attractions of Disney World's four major theme parks: The Magic Kingdom, EPCOT, Hollywood Studios, and the Animal Kingdom.
This quiz is challenging! How well do you know your Walt Disney World history?
[wpsqt name="Walt Disney World 40th Anniversary Quiz" type="quiz"]