Disney Sparkles During the Holidays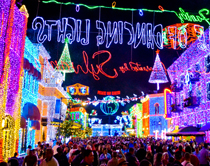 The holiday season is a magical time of the year* when Christians and non-Christians alike can revel in the gorgeous twinkling lights that are on display every December and through the New Year.
This year, I indulged in the Christmas spirit by visiting Brooklyn's Dyker Heights neighborhood which is famous for its extravagant Christmas light displays. Every December, Dyker Heights homeowners bedeck their luxurious manses in outrageous and elaborate displays that include thousands of lights, oversized nutcrackers, spinning carousels, and animatronic Santa Clauses. Some of the homes are elegantly decorated and others are garishly overdone with front yards overflowing with lighted reindeer, plastic candy canes, and inflatable snowmen – too many to count.
Of course, as fantastic as the Dyker Heights displays may be, no one does Christmas better than Disney. The Disney parks excel at enchanting spectacles year-round, but during the months of November and December they're especially magical as millions of lights transform Disneyland and Disney World into holiday wonderlands. Every year the parks host themed parades, fantastic firework displays, Christmas parties, and candlelight processions. For more information on Disney's holiday attractions, visit Holidays at the Disneyland Resort and Walt Disney World Holiday Events.
One of Disney's most popular holiday attractions is the Osborne Family Spectacle of Dancing Lights in Hollywood Studio's Streets of America backlot where the New York City buildings are blanketed in sheets of five million multicolored lights. The light display is synchronized to holiday music and artificial snow falls every night of the attraction from mid November through the first week of January.
The beautiful pictures of the Osborne Family Spectacle of Dancing Lights in the gallery above were taken by photographer Samantha McElhaney in November 2011.
If you've never visited the Disney parks during the holiday season, set your next family vacation for December 2012 and experience your first enchanting Disney Christmas. You may not get a white Christmas, but on the plus side, Orlando, Florida and Anaheim, California are lovely that time of the year!
* If you don't work in retail