The Unstoppable Marvel Avengers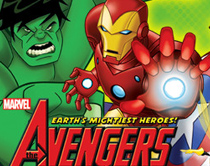 2012 was another blockbuster year for superhero flicks. This summer saw the launch of a brand new Spider-Man franchise with The Amazing Spider-Man (73% on Rotten Tomatoes) and the conclusion to Christopher Nolan's epic Batman trilogy, The Dark Knight Rises (87%).
The Dark Knight Rises is on its way to a $500 million domestic box office gross, but it is unlikely to surpass this summer's truly heroic feature: Marvel's The Avengers (92%) which stars not one but six Marvel superheroes and has grossed more than $617 million domestically and $1.49 billion worldwide, securing third place in the All Time Worldwide Box Office.
The Avengers was such a smashing success that Disney has already announced a sequel which is scheduled for release on May 1st, 2015. Like the first film, the sequel will be co-written and directed by Joss Whedon, a master writer-director of big budget and small screen ensemble casts, including Buffy the Vampire Slayer's Scooby Gang, Serenity's rag-tag crew, and Marvel's superheroes.
During the three-year wait for The Avengers II, Disney is continuing to cash in on The Avengers' success in other platforms. Earlier this month, Disney XD UK launched The Marvel Universe Block which will air on Disney XD in the UK every Friday at 3:30pm. The programming block features three Marvel animated series: Ultimate Spider-Man, The Avengers: Earth's Mightiest Heroes and Iron Man: Armored Adventures.
On September 25th, Marvel Entertainment will release six episodes of the second season of Iron Man: Armored Adventures on DVD as Season 2: Volume 2. The 3-D animated series (which airs in the US on Nicktoons and the CW) follows the adventures of teenage inventor Tony Stark and his friends as they battle villains intent on using stolen Iron Man technology for nefarious purposes.
In 2013, Marvel Studios is set to release Iron Man 3 and Thor: The Dark World, a sequel to 2011's Thor. The next Avenger to return to the big screen is Captain America in 2014's Captain America: The Winter Warrior. If the largely-ignored Marvel superhero Ant-Man doesn't appear in The Avengers sequel, he will make his big screen debut in a 2016 eponymous feature film.
And finally, the Marvel Adventures Theme Park, originally announced in 2007, broke ground on June 26th, 2012 in Dubai. Marvel Adventures is a planned 350,000 indoor entertainment destination located inside a 1.2 million family attraction center in the City of Arabia, Dubai. Construction on the theme park was delayed because of Dubai's financial crisis during the global recession and the Walt Disney Company's takeover of Marvel Entertainment. It's an ambitious undertaking as super as the heroes it features.
EDIT (8/31/12): Even More Marvel News!

According to Cynopsis Media,

"ABC gave a pilot order to S.H.I.E.L.D from Joss Whedon who will co-write the project that is based on the Marvel comic, per THR. The project will be produced by ABC Studios and is based on the long-running comic created by Jack Kirby and is about the secret military law enforcement agency named S.H.I.E.L.D which translates to Strategic Hazard Intervention Espionage Logistic Directorate."

Joss Whedon back on TV? Sounds great to me!