Disney Interior Design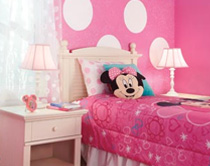 Although some Disney Parks are light on thrill rides (Epcot's got Test Track, Mission:Space and not much else), what makes the Disney Parks superior to amusement parks like Six Flags is the theming.
All of the Disney Parks are fully immersive and themed inside-and-out, from interactive waiting queues like the spooky graveyard at the Magic Kingdom's Haunted Mansion to Hollywood Studios' Los Angeles backdrops and Epcot's iconic Spaceship Earth – a ride inside of a giant globe.
The Disney Imagineers' attention to detail is flawless, making every trip to the Disney Parks a magical and unparalleled experience. And now, you can "bring (some of) the magic home" by sprucing up your own interiors with an exclusive line of Disney Paints available only at Walmart.
The Disney Paint collection includes eight color palettes (112 unique colors in all) that are inspired by Winnie the Pooh, Minnie Mouse, Disney Princess, Disney Fairies, Mickey Mouse, Pixar's Cars, Monsters University and "Colors With Kick". If you're feeling overwhelmed by the color choices, give the website's room-painter a try which lets you test out different combinations of wall colors by digitally painting three adjacent walls.
The Disney Ultra Durable Paint is ideal for kids' rooms as it is easily washable with soap and water, fast-drying, and virtually odor-free during application. The collection also includes an assortment of specialty finishes that can take any room to the next level of Disney-epic interior design.
Specialty Finishes:

All That Glitters – Apply over any color for a glittering effect
Speck-Tacular – Apply over any color for a sparkling confetti effect
Ready, Set, Glow! – Apply over any color to create cool shapes that glow in the dark
Great Slate – A tintable paint that turns any surface into a chalkboard
Magnificent Metallic – A metallic paint available in 24 unique colors
The customer reviews for the Disney Paints on Walmart.com are mostly positive, although some customers complained that the paint is too expensive, especially given that most applications require a minimum of two or three coats and it takes a lot of paint to cover the walls of even the smallest kids' room.
The specialty paints are only the most recent addition to an extensive line of Disney "Home" Decor that include wall decals and borders, bedding, and colorful furniture featuring beloved Disney characters – old and new. What better way to tuck your kids in at night than with a playful, lovingly-designed room filled with characters they love? Happy Disney dreaming!