"it's a small world" Turns 45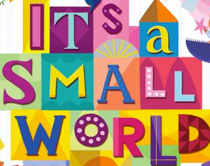 2011 is a big year for the Disney Parks! On October 1st, Walt Disney World celebrates its 40th anniversary, and earlier this year on May 28th, it's a small world at Disneyland celebrated its 45th anniversary. Originally conceived as an attraction at the 1964 World's Fair in New York and based on concept art by color stylist and designer Mary Blair, the ride was later taken apart and reassembled at the Disneyland Resort with a brand new Rube Goldberg-style façade. Five years later, it's a small world was one of the first attractions at the Magic Kingdom theme park on its opening day in 1971.

it's a small world is a charming boat ride through playful and vibrantly colored lands featuring more than 300 animatronic children from around the world who sing in various languages about how despite our differences, "it's a small world after all." Walt Disney called the attraction "the happiest cruise that ever sailed" and it stands as a symbol of international unity and peace for the hundreds of millions of people who have ridden it's a small world in California, Florida, Paris, Tokyo, and Hong Kong.
As part of the anniversary celebration, Disney Insider revealed that there is a special art exhibition at Disneyland's Disney Gallery on Main Street, U.S.A. which runs through October 31st of this year. The exhibit features 45 pieces and short movies that showcase Mary Blair's art. Along with concept art for it's a small world, the exhibition also features Blair's art for Cinderella (1950), Alice in Wonderland (1951) and Saludos Amigos (1942), as well as murals and background work she created for the Contemporary Hotel, the Tomorrowland entrance, and other ride concepts.
On September 17th, the Nucleus Art Gallery in Alhambra, California is also hosting a special it's a small world exhibition and artist signing to celebrate the latest book released by Disney Press, "It's a Small World" by artist/illustrator Joey Chou and inspired by the whimsical attraction. For more details, visit the Nucleus Art Gallery website.
it's a small world is perhaps best known for its saccharine and notoriously catchy theme song, which is almost guaranteed to get stuck in your head after 15 minutes of listening to it non stop on the ride. The song was written by the prolific Sherman Brothers (Robert B. Sherman and Richard M. Sherman) who have worked on Disney films for more than five decades and who have written more motion-picture musical song scores than any other songwriting team in film history.
The Sherman Brothers have written songs for more than 100 soundtracks, including Disney's The Parent Trap (1961), A Symposium on Popular Songs (1962), Summer Magic (1963), The Sword in the Stone, (1963), Mary Poppins (1964), The Happiest Millionaire (1967), The Jungle Book (1967), The One and Only, Genuine, Original Family Band (1968), The Aristocats (1970), Bedknobs and Broomsticks (1971), The Many Adventures of Winnie the Pooh (1977), and The Tigger Movie (2000). Non-Disney soundtracks include Chitty Chitty Bang Bang (1968), Charlotte's Web (1973), The Magic of Lassie (1978), and Little Nemo: Adventures in Slumberland (1992).