Arrr Matey! Disney Celebrates TLAP Day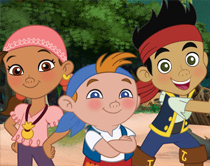 Every September 19th, good-humored people around the world celebrate a very special holiday: International Talk Like a Pirate Day (TLAP Day). The holiday is straight-forward enough; all you have to do is brush up on your pirate lingo, dress for the occasion, and spend the day talking like a buccaneer to everyone you know. Your friends, family, coworkers, and neighbors are sure to love it, and they definitely won't think you're weird at all!
Last year, this blog recommended Ten Ways to Celebrate International Talk Like a Pirate Day at the Walt Disney World and Disneyland Resorts, including riding Pirates of the Caribbean (as many times as you can!), exploring Pirate's Lair on Tom Sawyer's Island, and getting a pirate makeover at the Pirate's League. See the full list of recommendations below.
As a TLAP fan, I was thrilled to discover that this year Disney Junior is hosting a special Never Land Pirates Talk Like a Pirate Day Marathon on Monday, September 19th from 6am to 2pm. Talk about getting in the spirit! One of Disney Junior's biggest hits is Jake and the Never Land Pirates, a charming preschool animated series about three kid pirates (Jake, Izzy, and Cubby) who collect doubloons for their Team Treasure Chest by solving Pirate Problems and outsmarting the villainous Captain Hook.
Every episode of Jake and the Never Land Pirates ends with a live action performance by two of the pirates in Captain Hook's crew, Sharky and Bones, the lead rockers of the Never Land Pirates Band. Their song "Talk Like a Pirate" teaches kids some of the best G-rated pirate lingo, including "Avast", "Ahoy", "Aye aye", "Me hearties", "Scallywags", "Buccaneers", "Yo ho", "Jumping jellyfish", "Anchors away", and "Shiver up me timbers and me bones". Learn even more pirate lingo at Disney's Family.go.com.
As part of the Talk Like a Pirate Day celebration, kids can now make their own (super short) pirate videos at Disney Junior with the Pirate Video Maker. To make video, kids choose their favorite character (Jake, Izzy, or Cubby) and then customize the clip by giving the character a saying, an action, a background, and music.
At the Pirate Crew Hideaway, kids can also customize their very own pirate avatar and use doubloons from the Team Treasure Chest to buy pirate clothes and decorate a secret pirate hideaway. More doubloons can be earned by playing Jake and the Never Land Pirates-themed games.
No matter how you choose to celebrate International Talk Like a Pirate Day, be sure to have fun, and be sure to say Arrr!!!
Celebrate TLAP Day at the Walt Disney World and Disneyland Resorts

1. Brush up on your pirate-y lingo and mannerisms, courtesy of a Pirate Tutorial given by Captain Jack Sparrow. Be sure to keep up the act all day! (Magic Kingdom)

2. Ride the Pirates of the Caribbean ride over, and over, and over again. Don't forget to sing along! (both parks)

3. Take a journey on Peter Pan's Flight. Be sure to take off yer hat in tribute when the great Cap'n Hook meets his demise in the mouth of a hungry crocodile. (both parks)

4. Explore Pirate's Lair on Tom Sawyer Island. Climb the peaks of Castle Rock, uncover buried treasure, and discover the secrets of Smuggler's Cove. (Disneyland)

5. Climb the Swiss Family Treehouse and imagine that you are defending your family's jungle home from renegade pirates. (Magic Kingdom)

6. Buy a Goofy pirate ears bandanna, eye patch, or captain's hat, and wear it all day. These pirate accessories are available for sale in both parks.

7. Join The Pirates League and receive a new pirate name, pirate-themed face paint, and your own eye patch, sword, and sheath. (Magic Kingdom)

8. Children between the ages of 4 and 12 can enjoy a Pirate Adventure Cruise that departs from one of four Disney World resorts (Yacht and Beach Club, Grand Floridian, Caribbean Beach Resort, Port Orleans Riverside). On the pirate adventure, the kids will learn to talk like a pirate, visit ports of call, and return home with a bag of pirate booty. (Disney World Resort)

9. Book a pirate-themed room at the Caribbean Beach Resort and go to sleep every night with visions of pillaging and buried treasure dancing in your head. (Disney World Resort)

10. After an exciting day at the parks, unwind at home with Disney's Pirates of the Caribbean trilogy on DVD and snuggle up with a pirate-themed plush.