Jake and the Never Land Pirates, Ahoy!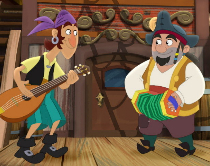 Pirates of the Caribbean: On Stranger Tides may have grossed more than $1 billion worldwide, but Jack Sparrow is not the only Disney pirate making waves this year. The fearsome Captain Hook from 1953's Peter Pan has returned in a gentler form in Jake and the Never Land Pirates, a preschool-friendly animated hit on the recently launched Disney Junior (formerly Playhouse Disney).
Jake and the Never Land Pirates stars three kid pirates, Jake, Izzy, and Cubby, who earn gold doubloons whenever they solve a pirate problem by getting past obstacles in their path or thwarting Captain Hook and his crew, Mr. Smee, Sharky, and Bones. At the end of every 11-minute adventure, Jake and his friends count up the doubloons they've earned on their adventure and add them to their Team Treasure Chest. The three pirates have special tools to help them solve especially difficult pirate problems. Jake has a sword given to him by Peter Pan, Cubby has a map to navigate Never Land, and Izzy has pixie dust to be used only in emergencies.
Captain Hook is the team's main antagonist, and he frequently tries to steal the their treasure or otherwise ruin their fun. Captain Hook is vain, selfish, and spoiled, and he has a lot to learn from the three young pirates who demonstrate their kindness by sharing, keeping their promises, and even helping the Captain and his crew out of sticky situations. The team has many other friends who offer their aid when help is needed, including their parrot friend Skully, the mermaid Marina, and even Tick-Tock the Crocodile, Captain Hook's hungry nemesis.
Every episode of Jake and the Never Land Pirates ends with a live action music video by the pirates Sharky and Bones, the lead rockers of the Never Land Pirates Band. Sharky and Bones have performed live in special appearances at Disney's Hollywood Studios, Disney Junior private parties, and most recently at the 2011 D23 Expo in Anaheim. Kids love to yo-ho-ho, dance, and sing along with Sharky and Bones. Watch the video below, and you can sing along too!
More Jake and the Never Land Pirates videos, including full episodes, are available to watch on the Disney Junior website. The series is available internationally on Disney Junior in sixteen different countries, including the United Kingdom, France, Japan, Germany, Italy, Australia, and Brazil.