Ways to Play Toy Story Mania!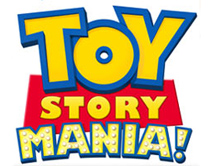 When I went to Disney World last September, one of the hottest rides at Disney's Hollywood Studios was Toy Story Mania! (also known as Toy Story Midway Mania!), an interactive 4-D ride through a midway of classic carnival games hosted by Toy Story characters.
In Toy Story Mania!, riders are given special 3-D glasses and are challenged to play a series of five midway games, earning points by tossing virtual eggs, darts, baseballs, rings, and suction cups at a series of virtual targets. The attraction is similar to Buzz Lightyear's Space Ranger Spin, but with huge technological advancements that allow for more sophisticated targeting and gameplay.
Midway Games in the Toy Story Mania! Attraction
Pie Throw Practice Booth (pie toss target practice game, a no points introduction)
Hamm 'n Eggs (egg throw game now featuring Buttercup from Toy Story 3)
Rex and Trixie's Dino Darts (dart throw game; once Bo Peep's Baa-loon Pop)
Green Army Men Shoot Camp (baseball throw / plate breaking game)
Buzz Lightyear's Flying Tossers (ring toss game)
Woody's Rootin' Tootin' Shootin' Gallery (suction cup shooting game)
Toy Story Mania! first opened at Hollywood Studios and California Adventure in 2008 and is set to open at Tokyo DisneySea in 2012. Because of the Toy Story brand and the ride's appeal for novice and experienced gamers alike, the attraction is still hugely popular, prompting some of the longest lines at the parks. Even in the off-peak season, FASTPASS for the ride can sell out within an hour of the park's opening, and lines can easily reach 90 minutes to 2 hours, or even longer.
The line queue features a talking Mr. Potato Head, one of the most sophisticated Disney Audio-Animatronics ever created. Mr. Potato Head tells jokes and interacts with park guests while they wait in line and he has more lines of dialogue than any other Audio-Animatronic created for a Disney Park. The character has malfunctioned a few times by pulling one of his ears out of his head and then dropping it.
The YouTube video above shows the full ride, including a walk through of the line queue. For those of us in need a Toy Story Mania! fix but without a Disney vacation in our future, no need to worry, there are plenty of ways to experience the midway game action outside of the theme parks.
Toy Story Mania! Mobile App – Wanna play Toy Story Mania! in miniature? If you have an iPhone, iPad, or iPod Touch, for $4.99 you can get the Toy Story Mania! app and play midway games inspired by the attraction in English, Chinese, French, German, Italian, Japanese, Portuguese, or Spanish.
All of the midway games in the app feature fully themed environments with music and sound effects. The five games are almost identical to the ones in the attraction, although the app does not include the target practice game, Toy Story 3's Buttercup, or the new Dino Darts game that replaced the original Bo Peep's Baa-loon Pop. There are tutorials for the games that teach players different techniques to aim and reload, including finger slides, taps, drags, and shakes.
There are two ways to play the midway games: Challenge and Free Play. Challenge mode features different levels of difficulty (you need to beat "Easy" before unlocking "Normal" or "Hard" and there are several stages with scores that need to be beaten in order to unlock the next stage. Playing in Challenge mode allows you to win tickets that can be exchanged at the Prize Booth for weapon upgrades and other fun prizes that can be used in the games. In Free Play you can pick from several stages to play but you can't earn tickets toward carnival prizes.
Each time you beat a level in one of the games you have the option of submitting your score to Facebook for your friends to see. With the Bluetooth feature enabled you can also host or join games with other real-life players and challenge them to beat your scores. If you are playing the Toy Story Mania! app while standing at the attraction entrance at California Adventure or Hollywood Studios, you can unlock special wallpapers in the app Gallery.
Toy Story Mania! Video Game – For a gaming experience even more like the attraction, check out the Toy Story Mania! Video Game, exclusively for the Nintendo Wii (currently $19.99 on Amazon!). The game features all ten galleries of midway games and special 3-D bonus features.
Toy Story Mania! Video Game (product description from Amazon.com)
Engage in 10 fast-paced shooting galleries – some adapted from the theme park attraction, others brand new and original to the game.
Includes 30 addictive mini-games.
Experience bonus levels in 3D and compete against family and friends for top prizes.
Team up to unlock Easter eggs (hidden game features and items) and collectibles.
In-game tickets allows players to buy "Sticker Books" that feature different game characters that can be used to build your own in-game scenarios based on certain themes.
Four-player game support competitive and cooperative multiplayer options.
Toy Story Mania! Online Arcade – You can also play brand new levels of Toy Story Mania!, including "Rex's Game of Egg-stinction", "Ice Flow Rodeo", and "Barrels of Fun" online at disney.go.com/games. You can even create your own levels with the Toy Story Mania! Game Builder) and then load and play your own games! Try it now!