On Netflix, Disney's "Just for Kids"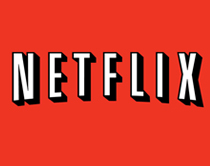 I have been a Netflix subscriber since 2005, long before most of the company's 23 million+ subscribers opened their own accounts. When I first signed up, there was no "Watch Instantly" feature, and a 3-DVD plan cost $19/month. When Netflix first started offering digital streaming as an option, the meager selection of movies and disappointing streaming quality left a lot to be desired.
My, how times have changed.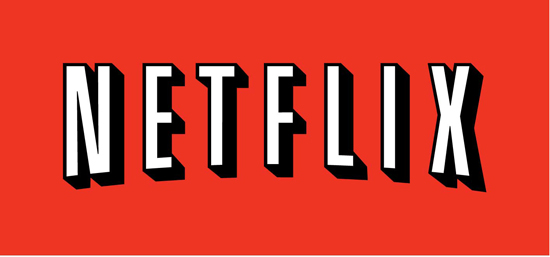 Over the past year, Netflix has focused most of its energy on expanding and improving its digital streaming selection, and the efforts are really paying off. There are thousands of new movies and TV series available to Watch Instantly, and more are being added every week as Netflix works out distribution deals with production companies and distributors.
Recently, Netflix launched a "Just for Kids" section on their website which features movies and TV shows targeted at kids 12 and under. Based on Common Sense Media ratings, the new section is intended to help parents and caregivers find age-appropriate programming for their kids. Currently, "Just for Kids" is only available on Netflix's website, although the company has plans to launch the section on its other platforms, including the Wii, iPad, Xbox, and Playstation over the next year.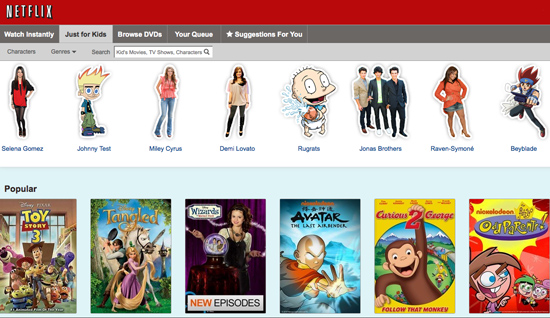 "Just for Kids" lets you search for available programming by popular stars (such as Phineas and Ferb, Selena Gomez, Miley Cyrus, Demi Lovato, the Jonas Brothers, and Raven-Symoné) as well as by genre: Superheroes, Adventures, Animated, Comedies, From Books, Girl Power, and Watch With the Family, and more. There's even a "Disney" tab which takes you directly to a list of Disney films and TV shows available to Watch Instantly!
Watch Instantly Disney Programming Currently on Netflix (as of 9/14/11)

Feature Films

Disney Channel Movies

Disney Channel Shows

20,000 Leagues Under the Sea
Alice in Wonderland
A Christmas Carol
Disney Nature Oceans
First Kid
Gordy
Ponyo
The Princess and the Frog
The Santa Clause 2
Secretariat
Tangled
Toy Story 3

Cadet Kelly
Camp Rock
Camp Rock 2
The Cheetah Girls
The Cheetah Girls 2
The Cheetah Girls One World
CowBelles
Dadnapped
Den Brother
Hatching Pete
High School Musical
High School Musical 2
Johnny Kapahala: Back on Board
Jump In
Lemonade Mouth
Minute Men
Princess Protection Program
Read It and Weep
Sharpay's Fabulous Adventure
StarStruck
The Suite Life Movie
Wendy Woo Homecoming Warrior
Wizards of Waverly Place the Movie

The Avengers
Good Luck Charlie
Hannah Montanta
Jonas
Jonas L.A.
Mother Goose Stories
Pair of Kings
Phineas and Ferb
Shake It Up
Shaun the Sheep
Sonny With a Chance
The Suite Life of Zack and Cody
The Suite Life on Deck
That's So Raven
The Wizards of Waverly Place

Unfortunately, a lot of Disney's content is set to disappear from Netflix when Netflix's contract with Starz expires on February 28th, 2012. After intense negotiations in August, Netflix and Starz faired to renew their contract, with sources reporting that Starz demanded Netflix pay ten times more than their original agreement (Netflix refused). Starz owns the exclusive licensing rights to many movies from Walt Disney and Sony Pictures, and unless a new contract is established, this programming will no longer be offered on Netflix after February of next year.